In our experience, the way to anyone's heart is with some good food, which is why at Hog Roast Ashburton we are firm believers in using only the highest quality, fresh ingredients sourced from the country's leading suppliers to create our famous menus. Our passion for what we do, coupled with our years of experience at the head of the industry is what makes the events we cater at so memorable, and in these unusual times, our teams have been working extra hard to give our clients a day they will never forget!
The most recent event we had the honour of catering at was Robyn and Mark's wedding! The pair had gotten in touch with us at the last minute after their original plans had fallen through, and they were so grateful that the Hog Roast Ashburton team went above and beyond to help them out. With their guest list whittled down to fewer than 30 heads, who were now set to descend upon the back garden of Mark's parents' house for the day, our southern slow roast menu seemed like the best fit for the style of the event they were hoping to achieve.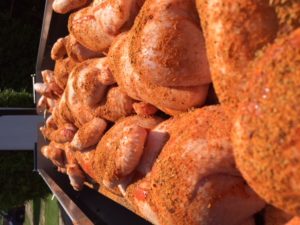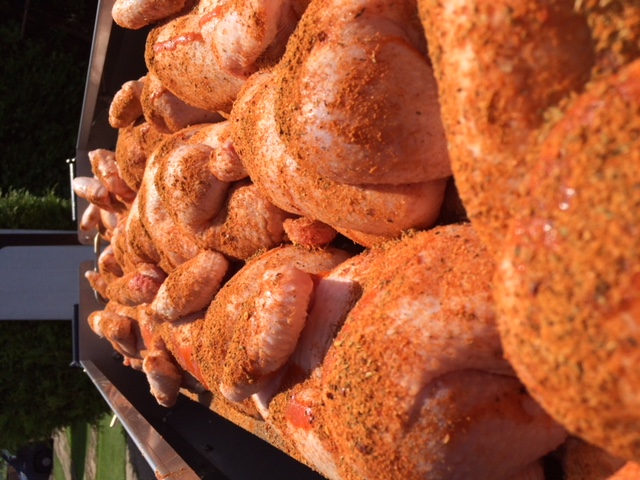 This wedding took place a little later in the afternoon, but Hog Roast Ashburton still made sure to arrive at the private garden hours in advance to ensure the feast was ready in time for the couple's return. Using our top of the range cooking equipment, the catering crew worked to tirelessly whip up the spread which consisted of BBQ pork butt, cajun spiced whole roast chickens and Texan 24 hour beef brisket along with mouth-watering sides of Memphis style crunchy coleslaw, buttery corn cobettes and a trio of side salads and gluten-free rolls and wraps.
Specially for the big day, the garden had been decked out with a cluster of white tipis, and each one had been draped with fairy-lights which provided soft, romantic lighting for the outdoor event.
Darkness was just starting to roll in when the wedding party returned to kickstart the celebrations, and they were pleased to find the meal was ready and waiting for them all to dig in!