While we provide a fantastic catering service in and around Devon (as well as further afield), we also rent out our own hog roast machines that we designed ourselves and that we build from scratch in our UK based factory. Many of our hog roast hire Exeter customers are repeat bookers who get hooked on this way of cooking once they try it out and we've no doubt that once you try it too, you'll want to DIY again and again. Whether you're thinking of renting our equipment to cook for your family and friends at home in Plymouth or you're a professional Exeter chef looking at catering one of your customer's events, our versatile hog roasting machines can do so much more than just cook you a hog…
We have additional attachments that you can use to convert one of our machines into a spit-roaster, so you can cook chicken, turkey, or a hunk of lamb or beef, for example. We also have barbecue attachments so that you can cook burgers, sausages, kebabs or fish, and you can use the inside of the machine just like you would a conventional oven, so you could cook vegetables and potatoes too. We designed our machines with all this in mind, knowing that our hog roast hire Plymouth customers appreciate the possibility of variety. However, many of our customers do hire our machines so that they can cook a hog, of course, and there's nothing better than the gorgeous smells emitted from one that's been slowly roasting for several hours.
A Professional Catering Experience Of Your Own
Regardless of the kind of event or party that you have in mind in the Devon area, the hog roast Exeter hire option will impress your guests no end and will let you produce tasty meat to fill hungry tummies. Our machines are extremely easy to operate but even so, when you hire from us, we include a delivery and collection service and we will show you how to use the machine before we leave you to it. Roasting a hog or spit-roasting an animal or bird is so simple these days when you use equipment like ours, as you turn it on, set the temperature and then just keep an eye on the meat as it cooks. Easy peasy! In a few hours, you'll have tasty, moist, tender pieces of pork just falling off the bone, and the skin will have browned and turned into salty, crispy crackling. Just imagine how impressed your guests will be and they'll think you have slaved over the hog all day, when in fact you sat back and just watched it cook to perfection! Our machine does all the work and you can take all the credit.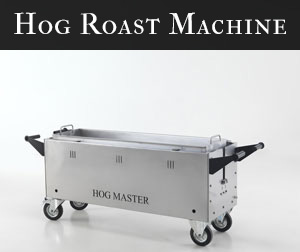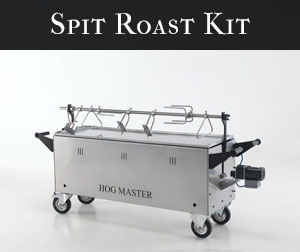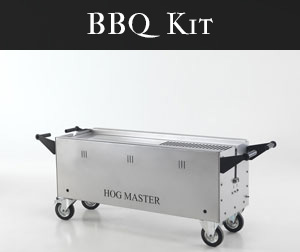 When it comes to the price, people often think that hiring a hog roasting machine is costly but it's cheaper than you may think and cooking in the way is actually cost-effective. Our machines are powered by gas and we include a gas bottle in the rental cost. As you can cook an entire meal in one go (for example, the meat roasting away at the top and both veggies and potatoes cooking away inside), we even have domestic customers who hire or purchase our equipment to use instead of using their own kitchen oven!
If you're hiring one of our machines for a party or event and you're not sure where to source the meat itself, we can even supply it as an extra service. We use trusted suppliers who provide us with fresh, high-quality, local animals and birds, and you really can taste the difference. If you're feeling more adventurous, you can even cook deer or a different medium-sized animal yourself and we can give you the advice needed to make it a success.
Wherever in Devon that you're thinking of cooking a hog or spit roast (or of course a barbecue or a meal of meat and veg), The Spitting Pig Devon team are on hand to help you to achieve your dream of catering by yourself. From a birthday party to a business event, or a meal after a christening to a simple meal at home with your family, our top-of-the-range equipment is all you need to satisfy your guests' hunger and make you look like a pro. Get in touch with our sales team to see just how affordable and easy it is!