The Devon Hog Roast Catering Company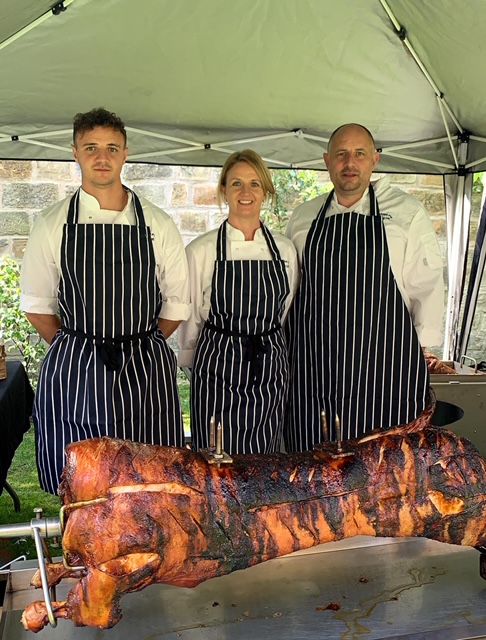 You may know us as your local go-to hog roast caterers when it comes to celebrating a special occasion or planning a corporate event in and around Devon, but we're actually much more than that. Did you know that we designed our own machines, which we also build ourselves? Not only that but we also sell them and hire them out so you can have your own DIY hog or spit roast, whether you're a professional chef or a domestic cook cooking for your friends and family at home. There's more to Spitting Pig Devon than first meets the eye…
Quality Is Essential
When looking for caterers when you're planning a party or event, you need to know that you're in safe, capable, caring hands and that you and your guests will be served quality, tasty and yet affordable food from Hog Roast Torquay. We are passionate about all of this, as we want our customers to feel that our food and service go hand-in-hand in these ways. We ensure that the ingredients we use are high-quality and that's why we use trusted suppliers, like with the meat that we source from local farmers and butchers. From the condiments that we use to the fresh salad leaves, we don't skimp on quality because we know that it shows in the taste and we want everything to taste gorgeous. We wouldn't serve food to you that we wouldn't eat ourselves, and we're a fussy lot here at Hog Roast Torquay!
When we arrive at your Devon venue to do your catering (and that could be in your own back garden, the middle of a park, or a boutique hotel), that's when we prepare the meat, so you know that it's as fresh as possible. Again, it's all about the taste and nothing tastes better than meat that was only freshly-prepared right before it was cooked slowly and surely for several hours and then made its way to your plate as soon as possible after a quick rest. The tantalising smells of a hog or spit-roasted animal or bird that's slow-roasted to perfection being carved straight onto your plate just can't be beat.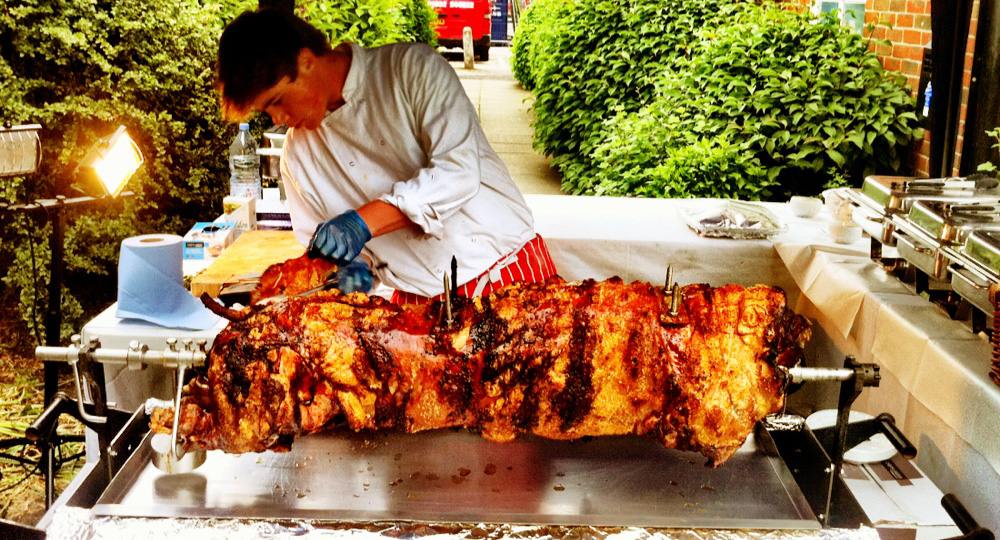 Whether you're planning a birthday party for 15 guests in Torquay, a wedding reception for 50 in Ilfracombe or a corporate event for hundreds of people in Plymouth, the Hog Roast Paignton team can help you to make a great success out of any event you have in mind. We've catered school fêtes, engagement parties, baby showers, hen parties, wakes and so much more. You may be thinking of an ultra-posh do with fine food and canapés and champers to start, or an informal gathering with just a handful of friends, but numbers and formality aren't issues for us at all. No matter how many (or few), we will happily cater your event with the same lovely food and the same professionalism and dedication.
When it comes to the food itself, we have so many options that you won't believe your eyes. We also encourage you to create your own menu or you can combine our menus too. It's clear that hog roasts are our speciality but we also offer spit-roast chicken, turkey, lamb or beef (and if preferred, you can choose a more unusual meat for your event). Our equipment is also capable of barbecuing food, so your guests could feast on our gourmet sausages, homemade burgers, and vegetable skewers. Our machines are so incredibly versatile that we can even cook you a pizza! Plus we also offer many options for guests with dietary needs, whether that's vegetarian, vegan, gluten-free or otherwise, as we want every single one of our guests to enjoy our Hog Roast Paignton food.
Sit Back And Enjoy Your Event
From the moment you contact us to get a quote to the time that we're clearing away after your party, you'll feel comfortable and spoiled by us. Nothing is too much trouble for our chefs or waiting staff and as long as we have enough notice, we can cater for your Devon event even if you think it's too remote a location. We actually cater events all around the UK, no matter your budget or party size.
Hog Roast Catering Experts
We mentioned earlier that we rent out our hog roast machines and this includes a drop-off and collection service. We can also provide the meat if required and we walk you through how to use the machine before we leave you to it.
You'll see that whatever your needs, whether you need a caterer or if you want a DIY hog or spit roast, or even if you want to buy your own equipment, Spitting Pig Devon is the clear answer.