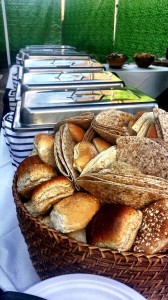 Are you planning a party or special event? Do you want your guests to enjoy themselves and go home happy and full of great food? If you hire the Hog Roast Tiverton team, we guarantee that is exactly what will happen.
For many years, our professional chefs and waiting staff have been delighting hosts by providing exceptional food and service. We know how to ensure that your guests are impressed and that you have plenty of time to enjoy their company instead of running around trying to sort out the food.
Hog Roast Feasts that Impress
If you have a lot of people to feed a hog roast is a great option. Most people love the taste of the succulent pork that is produced when the meat is slowly turned on a spit. The sight of a whole hog being cooked is an impressive one that adds a touch of theatre to any event. You can serve the meat in soft baps, as part of a buffet, carvery or accompanied by potatoes and seasonal vegetables at a more formal event.
We know that not everyone can eat pork and that many hosts like to offer their guests as much choice as possible. Therefore, we have developed ways to cook other spit-roast meats. If you prefer, you can serve your guests with beef, lamb, gammon, chickens or turkeys.
You can also order a range of canapés, salads, finger foods, bread and desserts to accompany the meat. There are plenty of vegetarian options included on our menus, and people with food intolerances are taken care of.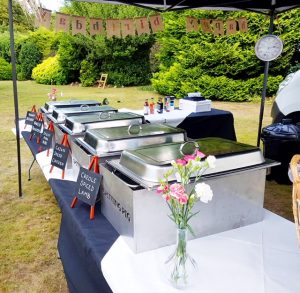 All of the chefs at Hog Roast Tiverton are professionally trained. They will arrive early and make sure that all of the food is ready on time and cooked to perfection.
For more formal events we offer a full at the table service. All of our waiting staff are experienced and know how to make your guests feel they are being looked after.
Hog Roast Machine Hire Service
We also give you the option of hiring a spit roast machine from us and impressing your guests by cooking your own hog or other meats. A member of the Spitting Pig team will show you how to use the roaster to make sure that the meat you cook comes out moist, and is as tasty as possible.
Please go ahead and fill in the quote form to find out more.