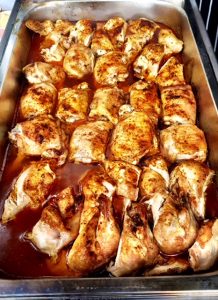 Hog Roast Yarcombe often caters weddings all over the Devon area but sometimes we're asked to cater further afield and sometimes we're asked to cater something a little bit different. We were recently asked to cater a welcome meal for Maggie and Jakub and their guests at Chaffeymoor Grange in Chaffeymoor, in the pretty village of Bourton in Dorset. While we often provide delicious food for wedding receptions, the welcome meal would be one evening before their wedding day, which would be on the Sunday.
Chaffeymoor Grange is a stunning 17th century stone manor house in a lovely area and is close to the Dorset, Somerset, and Wiltshire borders. It's a popular filming location as well as an excellent venue for corporate events, house parties and other private functions and particularly for weddings, it's a magical venue that's licensed for civil marriages and partnership ceremonies. You can hire out the place exclusively and even make your wedding a 3-night event, and it can accommodate up to 80 guests.
For Maggie and Jakub's welcome dinner, Hog Roast Yarcombe would be cooking our popular Southern Slow Roast Menu for 32 people. This menu brings all kinds of variety to the table, as it includes several scrumptious, marinated meats, all cooked low and slow, several gorgeous accompanying dishes, and some tasty sauces, and there's a vegetarian option included too. We were asked to cook chicken, ribs and lamb, to be accompanied by corn cobettes, wedges, mac and cheese and to make veggie skewers for the vegetarians, and we would also bring along a West Indian hot pepper sauce, a Jack Daniel's barbecue sauce and Stubb's Original Legendary BBQ sauce too.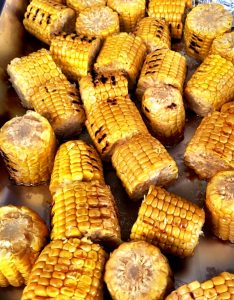 On the day of the welcome meal, Jane and Megan from Hog Roast Yarcombe arrived hours before service in order to start slowly cooking the meat trio. Time flew by and by 6pm we were soon serving some yummy food to the guests. We pride ourselves on adding the special touch when we cater, such as a bouquet of flowers for the happy couple, and on this day, Jane and Megan brought along some lovely sunflowers and a card to thank Maggie and Jakub for booking us for this memorable meal.