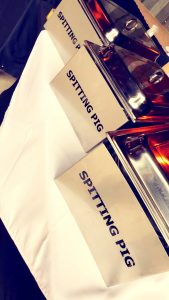 Organising a big party or event is exciting, but it can also be very stressful. Fortunately, the Hog Roast Barnstaple team is available to help. We take all of the stress out of organising the food, allowing you to relax and enjoy the company of your guests.
We use our training and expertise to provide you with a range of spit roasted meats, salads, desserts and side dishes that are sure to please. The food we provide is of the highest quality and we tailor our menus and service to your needs.
Perfect Food for any Event
If you are feeding a large group of people, a whole hog roast is a great option. The sight of the hog turning on a spit is one that gets the heart beating faster. Most people cannot wait for the chef to break through the crisp crackling and start serving them with heaps of pulled pork. A whole hog smells wonderful, tastes fantastic and can easily feed between 80 and 110 people.
However, not everyone can eat pork, so at Hog Roast Barnstaple we also offer a choice of other spit-roasted meats. Whether you want to feed your guests with roasted lamb, gammon, beef, chicken or turkey we can provide it. The modern spit roasting machines we use allow us to cook all kinds of meats to perfection.
We also offer a big range of sides, canapés and desserts. There are plenty of vegetarian dishes in our range, and lots of choice. This makes it easy to keep all of your guests happy regardless of their dietary needs.
The food we prepare at your event is of the highest quality and is prepared by professionals. We are flexible, so if you want something extra all you need to do is to ask.
Our Cook your own option
For example, some of our clients like to do some or all of the cooking themselves. To accommodate this desire we have set up a hog roast machine hire service. We provide the roaster, you do the cooking, and we pick it up and clean it when you have finished with it.
Ordering a sumptuous feast for your guests really could not be easier. You can get started by asking us for a quote. Once you have confirmed that you want us to do the catering for your event you can relax and let us do the rest of the work.