When you need a catering service such as ours for your future party or event, or if you're thinking of hiring or buying one of our fantastic hog roast machines, you'll need to know that you're in good hands with Hog Roast Exmouth. Once you contact us, you'll certainly see that you are, as our friendly sales team will deal with your enquiry quickly and easily, so that you have less to worry about. It can be fairly stressful planning a private party or corporate hospitality event, but whatever you have in mind, we have several ways for you to contact us at Hog Roast Exmouth, so that we can take some of the weight off your shoulders.
You may prefer to call us but we also offer you the option of emailing us at [email protected] or alternatively you can fill in our online booking form.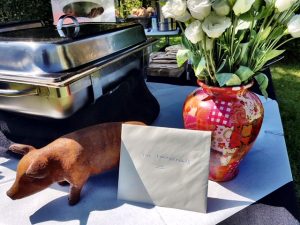 The choice of contact is yours. The online form is particularly handy if you have an event date, location and number of guests already in mind, as all you have to do is enter those details as well as your name, phone number and email address, and we'll get back to you with a quote as soon as possible (usually the same working day but otherwise by the next working day). This is probably the quickest way for you to contact us for a quote if you don't have time to call or if it's out of hours.
However, if you have additional needs such as special dietary requirements, or maybe you have several locations in mind, it may well be better for you to email us with all the information you do have, and we will reply asap.
If you'd like to speak to one of our sales team, call us during our working hours and we can give you a quote or give you more information about any of our services from Hog Roast Exeter.
Don't worry if your needs change and you need to contact us several times for quotes. We want to help you make your party or event a big success, so we're happy to help in any way possible. If this means you asking for multiple quotes, then that's fine by us!
Wherever you're planning an event or party, from Exeter to Paignton, or even somewhere outside of Devon, contact us for a quote or for more details and we'll help you to celebrate in style.