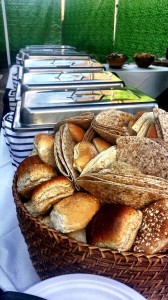 Planning the food for a special celebration or corporate event can be tricky. You need to bear in mind the dietary needs and tastes of your guests, and work out how much to order. Then you have to go through the hassle of shopping for, and cooking, all of that food. This is both time consuming and stressful. It is little wonder that most people worry about preparing the food for a big event. Fortunately, you can eliminate much of the stress by hiring Hog Roast Brixham to do the catering for you.
Our event team is very experienced. We know how to choose the best dishes for the type of event, prepare everything perfectly and serve it at the correct temperature.
Why Choose Spit Roasted Meats
Over the years, the Spitting Pig team has provided the food for hundreds of parties. In the majority of cases, the hosts have opted to have a whole hog roast cooked and served to their guests.
For a big party of people it is the perfect option. The sight of a golden hog turning slowly on a spit never fails to impress. It provides a great backdrop for a feast. The smell is fantastic, the meat tastes wonderful and it goes a long way. A standard hog can easily feed 80 people. If your event is an even bigger one, you can easily order another two or three hogs.
Using our event-based menus allows you to offer your guests more of a choice. We can also spit roast joints of beef, lamb, gammons, turkeys and other meats. In addition, we offer a range of finger foods, salads, stuffing, sauces and desserts.
Use our Hog Roast Machine Rental Service
If you want to do the cooking yourself, you can because we offer you the option of hiring a spit roasting machine from us. Someone from the Hog Roast Brixham team will show you how to use the spit roaster. Our modern machines are easy to use and we take care of cleaning it once you have finished.
Getting a quote from Spitting Pig is easy. All you need to do is to fill out the form on this website. Easy, fast, and definitely the best way to cater for an event or party.