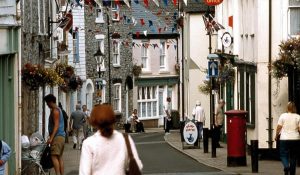 Buckfastleigh's most prominent landmark is its Benedictine Buckfast Abbey, which was established by King Canute in 1018, and is now well-known for its Tonic Wine. Buckfastleigh and its surrounding Devon countryside are steeped in history, with plenty of ancient woodlands to explore and enjoy a peaceful picnic in.
If you are enamoured by the history and charm of Buckfastleigh and you would love to host a special occasion in an area that is still in touch with its ancient roots, the Hog Roast Buckfastleigh team are the ideal catering option. We combine traditional cooking methods with modern flavours and contemporary menus to give you the best of everything when it comes to the catering for your big day.
Great Food for All Occasions
People have been spit roasting meat for thousands of years and the reason why Hog Roast Buckfastleigh have adopted and perfected this fabulous technique, is because there is quite simply no better way of cooking meat to create such a melt in the mouth texture and enhance its natural flavour.
We are the local leading experts in hog roast cooking and we only select the finest quality ethically-reared pork available. Our cooking methods don't just deliver fantastic results for pork-we can prepare any joint of meat using the same slow-roasting method with just as much success. This is why we also offer a variety of alternative meats if pork if not your number one choice, including sirloin of beef, organic chicken and spring lamb.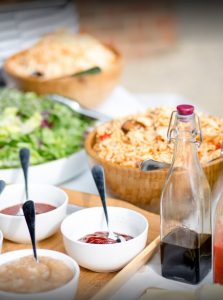 You don't have to worry about your vegetarian guests or those with special dietary requirements missing out on a tasty treat either. We have an inventive array of meat-free and gluten-free options and any of our menus can be adapted to cater for individual needs.
All of our ingredients are sourced with care from the best local suppliers and whether we are providing slow roasted pork sandwiches for a local festival, a 3 course meal with canapes for a wedding reception or an inviting buffet for a private party, we always prepare everything from scratch at your venue.
If you want caterers who utilise traditional cooking techniques to provide contemporary dishes made with the highest quality ingredients that are freshly prepared in any location, you won't find a company in the area who ticks as many boxes as Hog Roast Buckfastleigh.