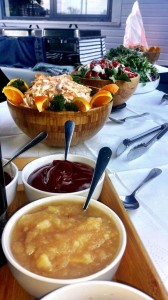 It does not matter what type of event or party you are planning, catering for it will be a challenge. If you do not organise big parties or celebrations very often trying to work out how much food you need and cooking it all can be extremely stressful. Fortunately, we are here, and ready to help. Over the past decade, the Hog Roast Crediton team has provided fantastic food for hundreds of weddings, corporate events and parties. We can do the same for you.
Our chefs, waiting staff and catering assistants are all trained to the highest standards. They know how much food you need and will make sure that is all cooked to perfection and served nicely.
Spectacular Party Food for every occasion
At Spitting Pig we work hard to be the best. Our equipment is top of the range, which means that we are able to spit roast practically any meat. Whether you want a whole hog, several turkeys, a row of chickens, joints of beef, lamb, ribs or hams we can cook it. Your guests will find it hard to resist the moist, succulent meat that our chefs will cook for you.
These modern spit roasters also have space to keep various potato and vegetable dishes warm. This means that we can now cater for formal dinners. For those who want it we provide a full at the table service, that includes crockery and waiting staff. Everything is set up for you and we take the dishes away afterwards, so you do not have to worry about cleaning up.
If you want to serve a buffet style meal to your guests we can do that too. Our menus include a range of canapés, salads, desserts and other foods.
Our Cook your own option
A member of the Hog Roast Crediton team will deliver the spit roaster to your party venue. They will explain how to use the machine to make sure that you get good results and impress the guests with your cooking skills.
If you want us to provide fantastic food for your party please get in touch and let us know. We are ready to help you to keep your guests happy and make sure that your event is a big success.