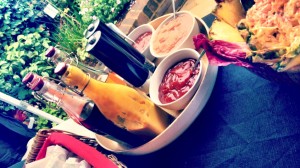 Whether you are holding an indoor or outdoor event, a hog roast is a great way to provide your guests with plenty of tasty food. It is an easy way to feed a large group of people. You can have the succulent pork served in a range of ways, so it is also a versatile way to cater for a party, wedding or corporate event. Over the years, Hog Roast Cullompton has provided this fantastic food for hundreds of hosts, and we would like to do the same for you.
Fantastic Roasted Hogs and more
As well as spit-roasted meats, we also offer a range of side dishes, canapés, salads, breads, stuffing and desserts. Our aim is to provide you with food that you will be proud to give to your guests.
Included on our menu is a range of dishes that are suitable for those with special dietary needs. Every type of guest has been thought about and catered for. Our chefs regularly update the menus to make sure that we keep pace with the changing tastes of the British public, so there is always a great choice available.
The fact that we use the latest spit roasting machines means that we can cook any type of meat for you. If you prefer turkey, lamb, beef or something else just let us know and we will cook that for you instead of a whole hog.
All of the chefs at Spitting Pig are professionally trained, so you are guaranteed perfectly cooked food every time. We will also take care of serving the food for you. Just let us know if you want our buffet or at table service.
Cook your own Roasted Hog with ease
There is also the option for you to hire a hog roaster from us and cook your own meats. We explain what you need to do and take care of cleaning the machine once you have finished with it.
Why not let us take the strain, that way you can enjoy your event or party, and let the Hog Roast Cullompton team handle feeding your guests. All you need to do is to fill in the simple quote form to get started.