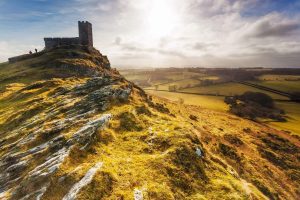 Dartmoor National Park is a unique and beautiful part of the UK whose landscape is both rugged and lush at the same time. The wild moorland and fragrant forests attract a constant stream of outdoor enthusiasts, all eager to get away from it all and take advantage of the many walking, horse riding, cycling and camping opportunities the area has to offer, not to mention the chance to see Dartmoor's semi-wild ponies roaming across the vast open spaces.
Dartmoor is a magical place that oozes history and character and if you are jumping at the chance to host an event with this ancient landscape as a backdrop, but you haven't been able to find a catering company you can give you both the food you want in the location of your dreams, Hog Roast Dartmoor are the answer.
Great Food for All Occasions
The hog roast cooking method may be as ancient as Dartmoor's landscape, but with our modern equipment and contemporary menus we have brought this traditional cooking style to a whole new level.
Our advanced machines are designed for easy transportation and multi-functionality, which allows us to provide complex menus in locations other catering companies would not be capable of cooking in. Of course, we couldn't achieve this without having an incredibly talented catering team, who are capable of adapting to any setting and delivering the highest quality food in any environment.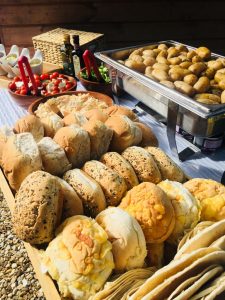 Regardless of the location of your event, here at Hog Roast Dartmoor, we are committed to making everything on-site from scratch using only the best quality locally-sourced ingredients. Because our menus are so varied, we are able to devise dishes that please all palettes, including a broad selection of different slow-roasted meats and vegetarian choices for every course.
For more formal occasions, you can even choose from our tempting selection of handmade canapes, which will be offered to your guests upon arrival by our own professional front of house staff. If you would prefer a more formal feel throughout the meal, rather than a buffet, we can also provide full table service.
If you want to be treated to some great food whilst still being able to enjoy Dartmoor's awe-inspiring landscape, you won't find a catering better equipped to meet all your needs than the Hog Roast Dartmoor team.