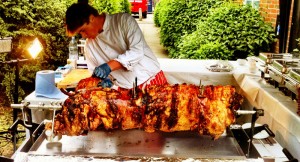 Providing a large group of guests with good food can seem like a daunting task. There is a lot to do, think about and take into account. For most people organising the catering for a party, wedding or corporate event is very stressful. However, it need not be that way. All you need to do is to hire us to do it for you. At Hog Roast Dartmouth, we pride ourselves on offering an exceptional service that takes all of the strain out of organising the food for any event.
The food we provide is of the highest quality and is all cooked by fully trained chefs. We make it easy for you to send your guests home with good memories and full of wonderful food.
Spit Roasted Meats for any Event
Regardless of the type of party or event, you are planning to hold spit-roasted meats are a fantastic choice. Turkey, chicken, lamb, beef or gammon that is cooked in this way looks wonderful, smells lovely and, most importantly of all, tastes divine. The cooking process produces beautiful crispy skin or crackling, which seals the flavour and the moisture in. At Spitting Pig, we use the latest technology to make sure that all of the meats we provide are cooked to perfection.
We also provide a wide range of side dishes, salads, finger foods, desserts, sauces, gravies, and, of course, stuffing. Your guests will be spoilt for choice. You can choose one of our standard event menus or mix and match, so that you provide your guests with food that is tailored to their tastes.
Our professional team will arrive early to set everything up and make sure that everything is ready on time. If you are holding a formal event, our waiting staff will lay the tables and serve all of the food to your guests.
Learn to Cook a Hog Roast
At Hog Roast Dartmouth, we realise that some people prefer to cook for their guests. Therefore, we also offer a hog roast machine hire service. We provide the machine and any side dishes you have ordered. You do the cooking and after you are finished, we pick up the roaster and clean it.
You can get a quote for our catering and hog roast hire service by filling out the simple form that is located on the home page.