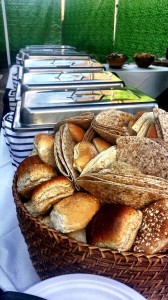 At Hog Roast Dawlish, we know that organising a party is fun, but also stressful. Over the many years we have been in business, we have helped hundreds of people to provide fantastic food for their guests, and we can help you too.
Our menus are extensive. As well as providing the classic whole spit roasted hogs, which are so popular, our chefs can cook a range of other meats and party food. Please read on to find out more.
A Spectacular Hog Roast Feast
We know that everyone is different. The vast majority of people find freshly cooked pulled hog hard to resist, but not everyone likes pork. Therefore, the chefs from Hog Roast Dawlish are also trained to spit roast or barbecue turkey, chicken, lamb and beef. We can also provide burgers, ribs and roasted hams.
For the non-meat eaters, there are plenty of vegetarian options available on our party platter menu. There are also dishes that are suitable for those with common food allergies or intolerances.
You are in complete control of what is served to your guests and how. All you need to do is to choose the meat and side dishes from our menu and tell us what time it all needs to be ready by. We will get it all prepared on time and serve it in the way you request.
If you are holding a formal event, we can provide waiting staff who will lay the tables with crockery that we bring with us. For informal events and parties, we provide a buffet table and disposable plates and cutlery as part of the package.
Cook your own Spit Roasted Meats
At Spitting Pig, we like to offer our customers as much choice as possible, so we also offer a spit roast machine hire service. This allows the budding chefs amongst you to do some, or all, of the cooking for your guests. Included in the hire package is a lesson to show you how to use the roaster. Once your party is finished we will pick up the machine, dispose of any leftovers, and clean it for you.
If you want an easy way to provide spectacular food for your next corporate event, family celebration or wedding just ask us for a quote. A member of the team will get in touch to discuss your ideas in more detail and give you a price.