Recently, the Hog Roast Exeter team was hired by a local client for a wedding. The venue hired for the event was Gulliford Farm in Exmouth in a large marquee on the farmland. The team provided their own equipment which they set up quickly. Meanwhile, after the service, the team cleared all of their waste and equipment away discreetly. The food was served in the afternoon and luckily the team had some fantastic weather for the event. The team worked really hard through the afternoon heat to deliver a fantastic service which they are all really proud of.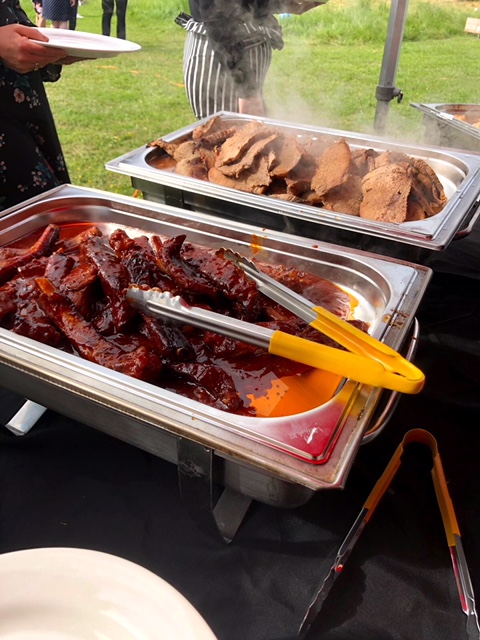 The client selected the Southern Slow Roast for the Hog Roast Exeter team to serve to his guests. To help give the service a luxury feel, the team served the food on real crockery. The food was served as a buffet outside of the marquee and the food was served in professional heated trays to keep the food hot outside. On the buffet, the team served the fall off the bone Louisiana pork ribs, Cajun spiced whole roast chickens and Texan 24 hour beef brisket. The Hog Roast Exeter team also served a selection of sides including Memphis style crunchy coleslaw, corn cobettes, maceroni and cheese, and skin on southern style whole baked potatoes. The team also served a selection of complimenting sauces including Jack Daniels smokey sweet BBQ glaze and Cajun hot pepper sauce.
The Hog Roast Exeter team's Catering Manager, Charlie, did a fantastic job of leading his team through the service and they were all really professional when serving the food. However, the team were also really friendly to the guests and helped to create a fantastic, bubbly atmosphere. To ensure that everything tasted really fresh, they prepared and cooked all of the food onsite and sourced all of their ingredients locally. The Hog Roast team served their food to 150 hungry wedding guests so it was important that they made enough food for everyone to have second helpings. Charlie was really impressed with the food his team delivered and was pleased he could make the newlyweds' wedding special.