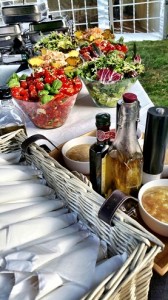 Organising and holding a party can be fun, but it is also a lot of work. One of the biggest tasks is providing enough good food for your guests. Many people find it hard to know where to start. Fortunately, we have a quick and easy solution; all you need to do is to order the food from us at Hog Roast Exeter.
For decades, we have been catering for both private parties and corporate events and parties in the area. We have the expertise to make sure that there is plenty of tasty food, so that none of your guests goes hungry.
Great Tasting Food for Every Event
We specialise in hog roasts, but can spit roast a range of other meats. If you prefer turkey, beef, gammon, chicken or lamb, we can cook that for you instead.
In addition, we can provide you with a range of tasty side dishes and party platters. Our professional chefs cook everything fresh. They only use the best ingredients.
We offer a range of finger foods and side dishes as well as spit roasted or barbecued meats. Our menus are updated regularly to reflect the changing culinary tastes of our nation. There are canapés, salads, sauces and desserts that represent all of the major cuisines of the world. Please browse our extensive menu to see what we have to offer and learn more.
Cook your own Spit Roasted Meats
For those clients who like to cook, there is the option to hire a spit roasting machine from us. We will show you how to use it and even deliver it to you pre-loaded with meat to make things easier for you, just ask. When you have finished with the spit roaster, we pick it up and take care of cleaning it.
All you need to do is to choose the food you want served and leave the rest to us. It really could not be easier, so why not ask us for a quote today.