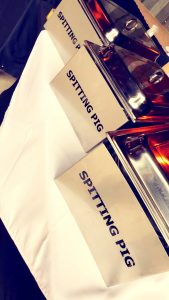 Whether you are planning a small family wedding, a party or a huge corporate event you are in the right place. Over the past few years, the Hog Roast Exmouth team has catered for these types of events. We have the expertise to take all of the stress out of organising your next party. When you hire us, you know that you will get the best food, and pay a fair price.
Our catering team and waiting staff are all professionally trained. They use their expertise to ensure that the food prepared is perfectly cooked, well presented and served at the right temperature.
Party Food for Every Occasion
The roasting machines we use at Spitting Pig are built to a high standard. They cook evenly, which means that the turkey, chicken, whole hog, lamb, beef joints or other meats are always moist and tasty.
These modern spit roast machines allow us to offer a range of warm sauces, gravies, potato dishes and vegetable options to be served with the meat. If you want to provide your guests with carvery style food, we can do that for you.
For a more formal event like weddings, we provide the option of a full waiting service. We provide the crockery and napkins and set the tables while the meats cook, and our chefs prepare the side dishes you have ordered. When ready, the meal is served to your guests at the table. Afterwards, we take the crockery and leftovers away to be cleaned.
Cook your own Spitting Pig
There is also the option to hire a hog roasting machine from us and do the cooking yourself. This is ideal for those of you who like to cook.
We deliver the machine and fuel to the venue and show you what to do. After you have impressed your guests with your cooking skills, and served them with succulent roasted meats, we pick up the roaster and take care of cleaning it for you.
Ordering could not be easier. All we need to know is the date of your event and how many people you are planning to invite. Using this information we are able to provide you with an accurate quote.