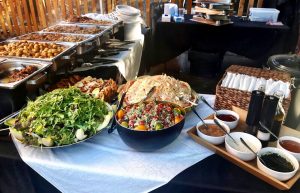 Whether you are planning a large corporate event, an intimate family party, or a big wedding you will need great food, and plenty of it. The Hog Roast Northam team is ready and waiting to provide it for you.
We have over a decade of experience of catering for all kinds of events. It does not matter whether you are planning to invite a dozen guests or a thousand we have the necessary expertise and equipment to cater for your event.
Lovely and Tasty Roasted Meats
The spit roasting machines we use can cook any meat to perfection. A whole roasted hog is great for a big event. The sight of a whole pig turning on a spit is a spectacular one and there is plenty of meat for everyone to enjoy.
However, for a smaller event there can be too much left over, therefore we also offer a range of other spit-roasted meats. We will cook practically any meat and can easily source ribs, turkey, chicken, lamb, beef and large hams for your event.
Our professional chefs and catering assistants will cook the meat in front of your guests and serve it at the perfect temperature. You decide whether it is served in baps, laid out as part of a buffet, or served to guests at the table.
If you want, you can also choose to order one of our menus that include side dishes. We provide a range of salads, finger foods, breads, sauces and desserts to make sure that there is something for all of your guests to enjoy, including vegetarians. At Hog Roast Northam, we know that people's tastes change over time, which is why we regularly review and update our menus, so you are bound to find what you want.
However, if you would like other dishes, please ask. If we can, we will prepare and serve them for you.
Cook your own Roasted Meats
If you want to keep the costs down you can order food from us and serve your guests yourself. We also offer the option for you to hire a hog roaster from us to cook your own meats.
To find out more and get a quote from us at Spitting Pig all you need to do is to fill in the simple form on this site.