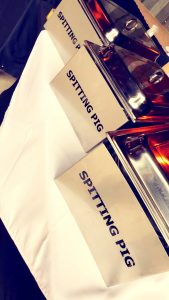 A hog roast really is the perfect food for a party, corporate event or wedding. When you have a lot of people to feed, it is great to have plenty of piping hot pulled pork and crackling to give to your guests. It is a popular party dish that many people look forward to eating.
The majority of the events or parties we cater for at Hog Roast Okehampton involve us providing a spitting pig. The fact that there is rarely much meat left at the end of the evening demonstrates just how popular this type of food is.
A range of other Roasted Meats
However, we appreciate that every event is different, which is why we also offer a range of other meats and foods. Understandably, the type of food served at a family birthday party is going to be different from what you would provide for guests at a commercial event, for example a product launch. For this reason, we offer several different menus and allow you to mix and match. This ensures that you can serve your guests with food that is tailored to their tastes and the type of event you are holding.
On our menu, you will find a range of roasted and barbecued meats as well as traditional hog roasts. We also provide a wide range of finger foods, salads, bread, sauces, gravies, vegetables, potato dishes and desserts. All you need to do is to select the dishes that you feel your guests will enjoy, and leave the rest to us.
Our professional catering team will arrive early to set everything up. They will cook the food on site and serve it all on time.
Most of our clients order our buffet style menu, but if you want to you can hire our waiting staff and have everyone served at the table. For those events, we also provide the crockery and take it all away to be cleaned afterwards.
Hire a Spit Roaster from Hog Roast Okehampton
We appreciate that some of you will be on a very tight budget. In that situation, you may want to do most, or all, of the cooking yourself. For that reason, we offer you the chance to hire a hog roaster from us and use it to cook for your guests.
You can buy the meat from us or source it yourself. We are flexible, whatever you need we will work to provide it for you.
To get started, all you need to do is to key your details into the quote form and press enter.