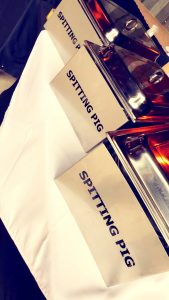 Regardless of the type of party or event you are organising a hog roast is a fantastic way to provide great food, even if you are on a budget. At Hog Roast Plymouth, we have the skills and experience to make sure that your guests are impressed by the meal you provide. We guarantee that everyone will go home content and full.
Ordering is easy. All it takes is a few minutes to fill out the quote form to get a price. Once you have chosen the dishes you want served, from our extensive menu, we take care of everything. This leaves you plenty of time to spend with your friends and family.
Private Party and Corporate Event Catering
It does not matter whether you need food for a large family wedding, a corporate event or a smaller celebration we can help. As well as offering a range of roasted or barbecued meats, we can provide you with side dishes and canapés.
These days not everyone wants to eat meat, so our menus also feature vegetarian options. We have dishes that represent the cuisines of the world, which makes it easy for you to find food to suit the tastes of all of your guests.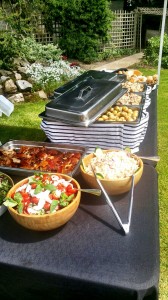 Everything is prepared from fresh, locally sourced ingredients. The meat can be cooked in front of your guests. This adds to the ambience and creates a wonderful backdrop for any feast. There really is nothing quite as good as the aroma of a whole hog or nice cut of meat roasting. Your guest's mouths will be watering.
All of our chefs are fully trained. They bring everything needed to prepare and serve the food with them and set it all up. All you need to worry about is providing the drinks and enough seating.
Cook your own Hog Roast
If you fancy having a go at spit roasting yourself, we can help. There is the option of hiring one of our modern spit roasters. The machine is delivered to your venue and we show you how to cook whatever meats you have selected.
Ordering could not be simpler. Just browse through our extensive menus, select the kind of food you would like to serve and ask us for a quote. We promise to get back to you quickly and provide you with a competitive price.