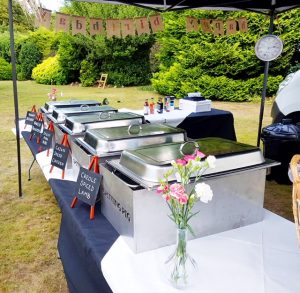 A hog roast feast is perfect for practically any celebration. Most people love the succulent meat and crackling that melts in the mouth. It does not matter whether you are holding a corporate event, a family wedding or another kind of celebration the Hog Roast Seaton team is here to help.
We can provide you with wonderful food, and do so for a competitive price. Read on to find out more about how we do it.
The Best Spit Roasted Meats
All of the hogs we cook are sourced locally, which is how we know that it is of the highest quality. The fact that we buy in bulk means that we get a significant discount. This enables us to provide the best meats at a good price.
The modern spit roasting machines that our professional chefs use allow them to cook a whole hog to perfection. By using different type of spits, they are also able to roast other meats. You can order practically any type of meat from us including beef, turkey and lamb.
In addition, we also make a wide range of canapés, salads and desserts. There are dishes on our menu that are inspired by all of the most popular cuisines, so you are bound to find options that you like. This makes it easy for you to provide plenty of choice for your guests.
Everything is freshly prepared by our chefs and catering assistants. They ensure that it all looks great and tastes fantastic. On the day of your party, we will arrive at the venue well before your event is due to start. This ensures that we have enough time to set everything up and cook everything to perfection, and present it properly for your guests.
Cooking your own Spitting Pig
The fact that our hog roasting machines are modern makes them easy to use. This enables us to offer our customers the chance to hire one from us and cook their own whole hog or other meats. Spit roasting is an exciting way to cook for your guests, and it is far easier to do than you might think.
If you would like the Hog Roast Seaton team to cater for your event all you need to do is to fill out the simple quote form on this website. We will get back to you quickly and discuss your needs in more detail, as well as give you a price.