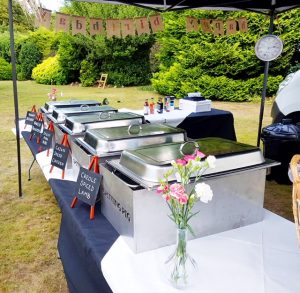 If you are planning to host a party, special event or an important celebration, like a wedding, we are here to help. Hog Roast Tavistock will provide you with fantastic food that will ensure that all of your guests are kept happy and are well fed.
Our service makes catering for any size party or event as easy as picking up the phone. We have over a decade of experience, which means you can take it easy and leave everything to us. Doing so will make it far easier for you to spend time with your guests and enjoy your event or party.
Our Hog Roast Service
Times are changing and people's culinary tastes are too, but our classic hog roast package is still the most popular option. There is something special about seeing a whole hog spit roasted in front of you. It is hard for people to resist the crisp crackling and succulent meat that this cooking process produces.
However, not everyone can eat pork, so it is always a good idea to provide some alternatives. At Hog Roast Tavistock, we have adapted our spit roast machines so that they can be used to cook other types of meat including ribs, beef joints, lamb, turkey and chicken, all of which taste and look wonderful.
We also provide a range of party platters, including plenty of vegetarian dishes. Our Spitting Pig team prepares all of this food on the day and will lay it all out for you on a buffet table.
If you are holding a formal event and want your guests to be served at the table we can handle that too. We have a team of professional catering assistants and waiting staff that will take care of laying the tables, serving the food and clearing the crockery away afterwards.
The option to Cook your own Spit Roast
There is also the option to do some, or all, of the cooking yourself, because we rent out our state of the art spit roasters. They are easy to operate and we will show you how to get the best results, as well as take care of cleaning the machine.
If you want to know more, or to place an order, please fill out the quote form on this website. We promise to get back to you quickly.