This week the team at Hog Roast Dawlish were hired by a woman named Angela, to provide their famous pigs in buns to the general public as they came and explored an Antiques fayre. Held on the playground of a local school, Antiques traders had been invited by Angela to come and set up their stalls for people to come and have a look at, with the option of buying anything they like. Our job was to serve fresh tasty food to try and make the guests more comfortable, with the hopes of keeping them there for longer.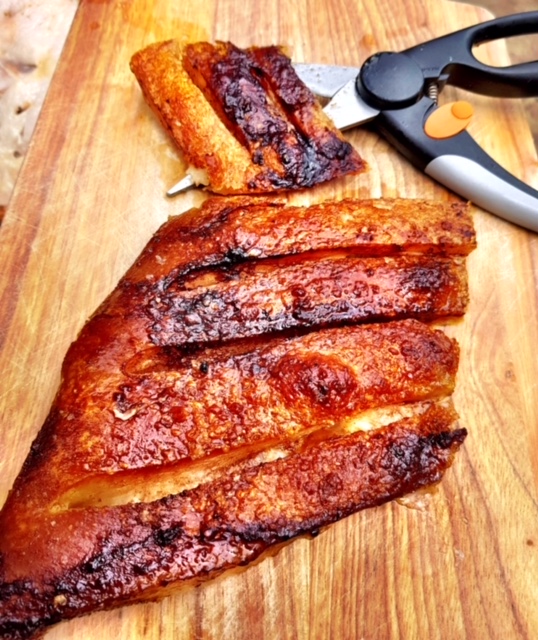 At Hog Roast Dawlish we always make sure to arrive at the venue for any event with plenty of time to spare, as we slow cook all our meats to perfection over the course of several hours, which is the key to achieving our succulent tasty finish with crispy crackling. Today our serve time was 1PM, so we were on site by 7AM and let in by the school caretaker, as none of the other guests or event organisers had arrived yet. Our catering assistant set up a gazebo to protect from any potential rain, as the chef butchered the hog and placed it on the machine for roasting.
Over the next few hours as the Hog cooked in its own natural basting fluids, and began to give off a heavenly scent that had taste buds tingling, the Antiques traders arrived and set up shop, along with Angela. By 12 noon, guests began to arrive the smell of our hog was already drawing attention, with many people asking for food before it was ready. Fortunately there wasn't long for people to wait, and the Hog had soon roasted to a wonderfully golden hue with the crispiest of crackling. A queue formed and our chef from Hog Roast Dawlish began serving to the hungry crowd.
A selection of sauces was also available for guests to choose from to accompany their pigs in buns. Many chose to eat on the go as they wondered round the various stalls. Our team also provided guests with disposable plates and napkins, and at the end of the day, made sure to tidy away all bits of rubbish and mess.