Last week the Hog Roast Ivybridge team were asked to provide a family friendly feast by the parents of Megan for her 10th birthday party. Being a huge Disney fan, they decided to give her a real treat by letting her and all her friends dress up as their favourite Disney princesses for the day, whilst all the adults in attendance were getting just as much of a treat with our fabulous feast!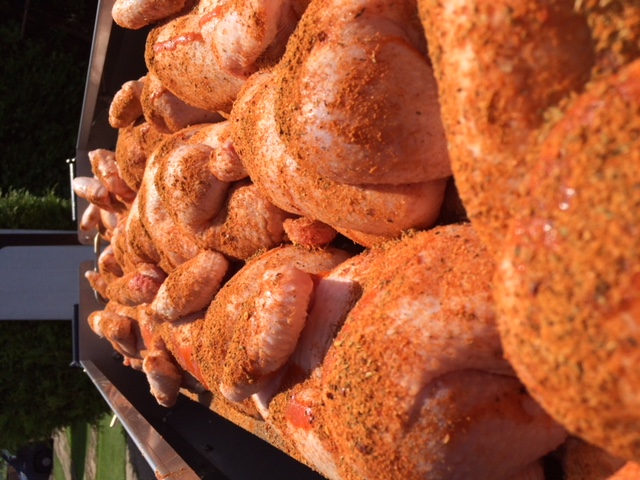 One of the great things about our food is that it is suitable for all different types of events and can be enjoyed by people of all ages regardless of their tastes or dietary needs. As Megan's parents discovered, our varied menus really do have something for everyone. They chose our Southern style menu, which is always a great option for fun family events, as well as being a real meat feast! They opted for our BBQ pork butt, slow-cooked sticky ribs and whole roasted Cajun chicken, accompanied by Memphis style creamy coleslaw, corn cobettes, our home made mac and cheese and a tangy Greek salad, plus some grilled vegetable and halloumi wraps for their three vegetarian guests!
We arrived at the venue Megan's parents had hired long before her and all of her friends had transformed themselves into Disney princesses for the day and wasted no time in getting to work preparing our flavoursome and varied feast from scratch, using as always, only the finest local produce available. Megan's parents couldn't believe we could freshly prepare such a lot of dishes at the venue on the day and they couldn't wait to try our food.
When a very excited Megan and all her friends arrived along with all of the other parents, friends and family members, Hog Roast Ivybridge's Southern style spread was ready and waiting for everyone to dig into!
Everyone from the age of 8 to 80 absolutely loved our food and the variety on offer. Megan had a 10th birthday party she would never forget, and thanks in part to Hog Roast Ivybridge's contribution, everyone else had a great time too!