In the recent weeks, the team at Hog Roast Tiverton were contacted by a local author named Amanda who has just recently enjoyed the success of having her first novel published. Having gained such valuable experience into the world of storytelling and publishing, Amanda wanted to share some of her insights and decided to host a writer's workshop at a local community centre in her village. As an extra way of encouraging people  to attend, she decided that she wanted a Hog Roast buffet to be served at the end of the session.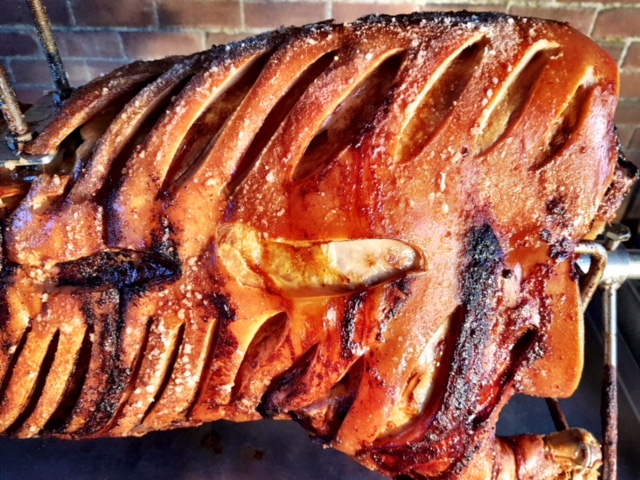 We spoke with Amanda about the particulars of her event. She wanted a simple Hog Roast served with crusty bread rolls and a selection of sauces, for her thirty expected guests. However as the venue in question was a community centre and not owned by Amanda, the cooking would have to take place outside. Luckily for Amanda, we're the nation's best Hog Roast company and we are always more than prepared to face the outdoors.
On the day of the event, the team from Hog Roast Tiverton arrived nice and early – a good three hours before the three hour workshop was meant to begin. This is because we slow cook all our meats and prepare all our meals from scratch, using only fresh ingredients on site. The art of roasting a Hog low and slow over the course of several hours is the key to achieving a succulent taste to the meat, and a crispiness to the crackling. As guests began to arrive, the smell from our hog cooking was already attracting attention, but the hungry eyed guests would have to subdue their temptation until the workshop was over.
Once the session had ended, and Amanda had helped the budding writers to improve their works, the Hog was ready to be served. Our team from Hog Roast Tiverton had set up a couple of gazebos outside, one to protect the cooking, but another for the guests to eat under – and we had laid out a few chairs as a small dining area. In the end Amanda's writing day exceeded her own expectations with over fifty people attending. She thanked us for the part we had played in making her event a success.