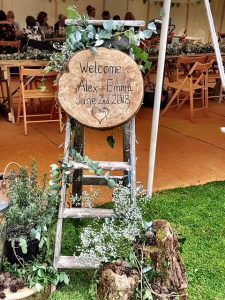 Hog Roast Yelverton has provided tasty food for many lovely weddings at some charming venues over the years but we catered at a unique venue just recently for Alex and Emma's wedding day. The couple married at Burrator Reservoir on Dartmoor, with guests watching the ceremony from hay bales in the sunshine! Burrator Reservoir is a romantic and distinctive place to get hitched outdoors surrounded by natural beauty and then celebrate the occasion with friends and family members. Featured in the Steven Spielberg movie War Horse, Burrator is known as the jewel of Dartmoor and with good reason – located on the edge of Dartmoor National Park, it's an enchanting and dramatic setting for your special day among tors and moorland, meaning you'll have some amazing wedding day photos to treasure.
Alex and Emma asked Hog Roast Yelverton to cater twice on the same day and decided on a Southern Slow Roast Menu served on real crockery for their daytime menu and then our popular pigs in buns for the evening meal. We would be serving 65 adults and 5 children during the day, with some of our gorgeous dishes including 24-hour brisket, Creole-spiced lamb, salmon and spicy sweet potato wedges, as well as a veggie option of vegetable skewers, pitta bread, and a tzatziki dip. We have plenty of choices for those on special diets and can cater for vegans, vegetarians, and gluten-free guests and more, if we know in advance. Everyone should be able to enjoy our wonderful culinary masterpieces – simply great food made from fresh, locally-sourced ingredients. If you have any guests with dietary needs, ask us what we can provide for your party or event.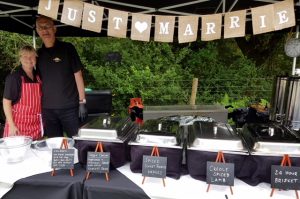 For this event, Hog Roast Yelverton also provided sausages and hot dogs rolls for the kids at the 1pm service, which were just as much a hit with the young ones as the Southern Slow Roast menu was for the adult guests. Then by 6pm, we got ready to serve the evening guests and 150 people happily munched away on our hog roast rolls. Once everyone had their fill, we quietly cleared away to leave the bride and groom and their guests to enjoy the rest of the evening.