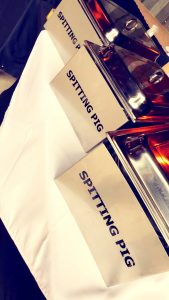 Hosting a party is always fun, but it can also be stressful. One of the most daunting tasks is providing the food, especially if you have a lot of guests. However, it is far easier than you think. By hiring Hog Roast Sidmouth, you can take all of the stress out of feeding everyone.
All it takes is a phone call to arrange a sumptuous feast that will impress, and send everyone home happy and full. At Spitting Pig, we have catered for hundreds of corporate events, weddings and family parties, so we know what people like.
A Great Hog Roast Menu
The centrepiece of most of the feasts we provide is still the hog roast. People love the sight of a whole hog roasting on a spit. The lovely crisp crackling and soft, moist meat are irresistible. Whether it is served simply in baps, as part of a formal sit down meal or a buffet, succulent roasted pork always goes down well. There is rarely much leftover meat to make sandwiches with.
However, tastes are changing and many of our customers provide other roasted or barbecued meats as well. Roast turkey, lamb, chicken, beef, gammon and ribs are all options that work well. If you are holding a smaller party, where a whole hog would be too big, providing other spit-roasted meats instead is a good option.
To make sure that all tastes are catered for we also offer an extensive range of side dishes. Take a look at our menu pages, and you will see that we offer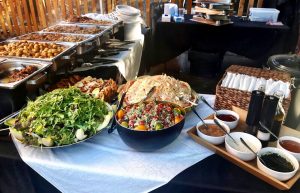 salads, canapés and desserts, inspired by the cuisines of the world. Many of the dishes are suitable for vegetarians, or those with special dietary needs.
All of the food we provide is fresh and of the best quality. Our professionally trained chefs cook everything perfectly.
Impress your guests with your cooking skills
If you really want to impress, why not cook your own hog roast. You can hire a spit roaster from us. We show you how to use it and take care of cleaning the machine afterwards.
Whether you are hosting a small party, a family wedding or a huge corporate event, the Hog Roast Sidmouth team can provide you with fantastic food. Ordering could not be easier, just ask us for a quote by filling out the form.