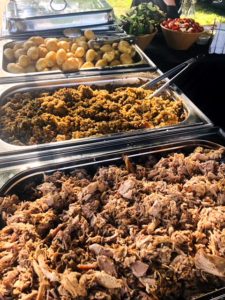 South Molton's longstanding traditional markets have a plentiful supply of great local produce and if you would love to have a menu full of superior locally sourced ingredients and high quality ethically reared meat, the Hog Roast South Molton team are the ideal catering choice for your event. We have mastered the traditional art of hog roasting and we have expertly combined it with our own inventive modern menus that celebrate local Devonshire produce at its best. To ensure our diners get the full benefit for such fresh and high-quality ingredients, we always prepare our meat on-site as well as making the rest of the dishes on our menus from scratch at the venue too. It doesn't matter whether we are providing an ample supply of our signature hog roast sandwiches for a public event, a substantial buffet for a private party or an elegant 3 course meal for a wedding reception, we always apply the same stringent methods when preparing our menus.
Irresistible Menus To Impress Your Guests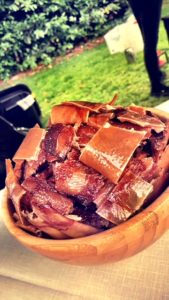 Our menus don't just offer the high-quality ingredients that you require for your event, they also offer the variety that will ensure that you can please all of your guests. If you would prefer an alternative to our trademark pork or an additional meat option, you can choose from sirloin of beef, whole roasted free-range chicken, or tender spring lamb, for example. We also invest a great deal of effort into offering a tasty and varied range of vegetarian and vegan dishes across all of our menu options and we are able to alter any dish to cater for the individual needs of your guests.
The Hog Roast South Molton team take our standard of service just as seriously as the quality of our food. We have our own experienced and attentive events team who can provide full table service if you opt for a sit-down meal, as well as a canape welcome reception for a stylish start to your party. No matter what service style you require, you can rest assured that you and your guests will be very well taken care of from beginning to end.
With our freshly made fare that showcases locally sourced produce, our varied menus and bespoke style of service, the Hog Roast South Molton team are the perfect catering option for any event in South Molton.