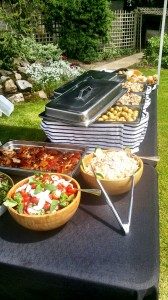 Providing food for a special event can be complicated. You have to think about the tastes and dietary needs of all of your guests and make sure there is enough of each dish available. For someone who is not used to catering for large groups this is difficult to get right. We can solve this problem for you. The Hog Roast Teignmouth team has plenty of experience. We know what foods modern party-goers enjoy and roughly how much of each dish will be eaten, so can work all of that out for you.
By hiring the Spitting Pig team, you know you are going to get great food that is perfectly cooked, and served on time. Please read on to find out more about our service.
Perfect Party Food for Every Event
A hog roast is a great centrepiece for a special celebratory feast. It looks fantastic, smells good, serves a lot of people, and is very tasty.
If you are holding an event with hundreds of attendees, hog roasts are ideal. You can order several if you need to, as well as platters of finger foods, salads, sauces, stuffing and desserts.
For smaller events serving joints of beef, lamb or gammon may be a better option. The chefs at Hog Roast Teignmouth have plenty of experience of cooking this type of food too. The modern hog roasting machines we use can cook any meat to perfection. Our chefs and waiting staff are all experienced and professionally trained, so you know you are in safe hands when you hire us.
Cook for your Guests
If you enjoy cooking, you could order some side dishes and hire a spit roasting machine from us to cook your own meats. We give you a lesson, so everything you cook is perfectly cooked.
Ordering your hog roast feast from us is easy. You just need to take a few minutes to choose some items from our menus then ask us for a quote. Our service really is the easiest way to provide your guests with fantastic food that they will be telling their friends about long after your party or event.