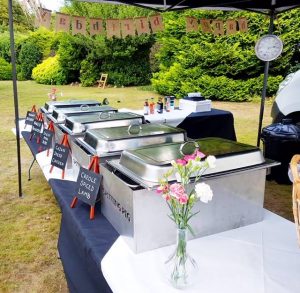 For Lauren's 21st birthday party, organised by her dad Richard, Hog Roast Dunkeswell catered outside of our usual area at Eastbury Farmhouse in Dorset. We often cover for other franchises or are asked by our customers to cater outside of Devon and it's never a problem. Whether you need a wedding meal consisting of several courses, a christening barbecue plus a dessert or a corporate spit roast with extra dishes, we have plenty of options to help make your special occasion a very special memory.
For the 40 guests at Lauren's milestone birthday celebration, we would be serving our amazingly versatile Southern Slow Roast Menu on real crockery. This Hog Roast Dunkeswell menu, also known as our Private Party Menu 2, gives you and your guests no less than three main meats (all marinated and chosen from spiced lamb, sticky pork ribs, barbecued pork butt, beef brisket and spiced chicken) and four sides (including mac and cheese, a seasonal green leaf salad, a Greek salad, baked potatoes, sweet potato wedges, coleslaw and corn on the cob) plus three lovely sauces as well as the usual condiments that we bring along. When you factor in that this menu also offers a vegetarian option (which we can even make vegan), there's so much choice that everyone invited will be well-fed and satisfied at your event or party.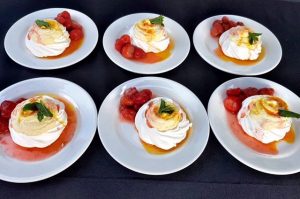 For Lauren's special day, we would be serving Cajun-spiced chicken, Creole-spiced lamb, sticky pork ribs, baked potatoes and coleslaw, as well as vegan skewers and vegan mac and cheese. While our mac and cheese isn't usually vegan, we can always work around your wants and needs and on this day, we made it without dairy products. The skewers themselves consist of fresh vegetables, so are suitable for both vegans and vegetarians, though if preferred, we can add halloumi for the vegetarian guests. To finish off this tasty meal, the guests would have a choice of two desserts – either our scrumptious chocolate torte or our delicious strawberry meringue with passionfruit cream.
By 4pm on the day, our Hog Roast Dunkeswell team of Martin and Charlotte had decorated around our gazebo with birthday banners and fresh flowers, cooked the meats, vegan dishes and sides beautifully, and after hours of prep and cooking, it was finally time for them to serve the hungry guests.