Hog Roast Axminster has catered in some lovely locations over the years, at many schools, and providing feasts for lots of weddings but we recently catered a wedding at a stunning school! We were asked to cater Katy and Anthony's wedding at Hanford School, which can be found at the foot of Dorset's Hambledon Hill. While we are based in Devon, we often cater further afield, whether requested by a customer or to cover for another franchise.
Hanford School is a girls only preparatory school, for both day pupils and boarders, and is famous for its ponies, and pupils can even bring their own. Former students sometimes get married or hold their wedding reception in the grounds, and the box gardens is a wonderful place for those all-important photographs.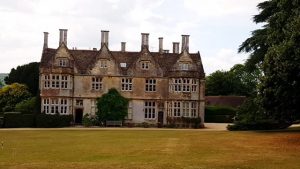 For Katy and Anthony's big day, Hog Roast Axminster was asked to provide our Menu 4 for 100 guests, featuring a centrepiece hog roast together with seasonal mixed vegetables and roast potatoes. We have various menus for our customers to choose from and we encourage you to mix and match items between menus or even to create your own. However, sometimes one of ours is already perfect, and for this wedding meal, Menu 4 was just that.
The weather was stunning on the day, to match the stunning surroundings. Hog Roast Axminster Chef Jane and her team members Roger and Charlotte arrived at the venue hours before the afternoon service, to set up our equipment and prepare the meat for its roasting. Once we've scored the meat all over, covered it in water and then smothered it in salt, we keep a careful eye on it as it cooks, and that usually takes a good few hours.
By 3pm, the hog had cooked beautifully and so had everything else and it was finally time to serve. We served the main course to the tables, as platters and bowls, with 10 servings in total, including lashings of our delicious, homemade pork gravy in jugs and plenty of our own apple sauce and sage and onion stuffing. We all had a wonderful time with great people at such a fantastic venue.