With their 20th wedding anniversary fast approaching, high school sweethearts Tom and Rachel wanted to mark the special occasion with an unforgettable hog roast buffet for all of their friends and family to enjoy; but unsure where to begin their search for the right caterers, the happy couple decided to ask a close friend for some advice. Luckily, they were soon pointed in the direction of Hog Roast Tedbirn St Mary who have been at the head of the industry for the past two decades and with our lightweight and easily portable cooking equipment, our teams can effortlessly whip up a mouth-watering menu anywhere.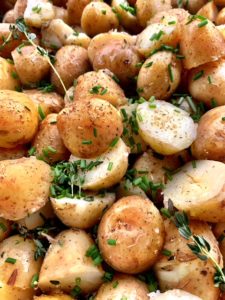 Eager to get the preparations for the big day underway, Tom and Rachel discussed our variety of menu options with Hog Roast Tedbirn St Mary's expert catering manager before deciding on our classic hog roast dining menu which features an alfresco feast of succulent meats, leafy salads, seasonal veg and a potato dish served on real crockery by a team of hands-on caterers. Pleased that the stresses of cooking and serving were now completely off their hands, the only thing the loved-up couple had left to worry about was dishing out the 70 invites to their guests –  but unbeknownst to Rachel, Tom was planning an extra special surprise for the big day!
On the morning of the much anticipated anniversary, the Hog Roast Tedbirn St Mary catering crew arrived at the couple's home to set up the cooking equipment, gazebos and lay out enough tables and chairs in the spacious back garden for all of the guests. Allowing the whole pig to slow roast was the main priority, so before getting started on the side dishes of tomato and basil salad, fresh green leaf salad, coleslaw and warm new potatoes in herb butter, the team allowed the pig to sizzle away on a bed of savoury stuffing which was then served with applesauce and crispy crackling.
When presented with the feast, Tom and Rachel were overjoyed and their arriving guests were quick to take advantage of the tantalising spread by filling their plates with a little bit of everything. As the night drew to a close, Tom seized his moment and bent the knee for the second time to ask Rachel to marry him again and we're pleased to share, she said yes and the Hog Roast Tedbirn St Mary team are excited to cater for their vow renewal!