Everyone wants to go all out to impress new clients when they pay a visit to their premises and this was certainly the case for the marketing company who recently asked the Hog Roast Yelverton team to provide one of our professional corporate buffets! The food is always such a crucial part of any successful event or important business meeting and Alex, who was in charge of sorting out the lunch for the client visit, wanted to be sure that he got it right! He was impressed with the variety of our menus, which offer not only our unbeatable pork, but also a wide choice of contemporary dishes that appeal to all tastes and meet all dietary needs!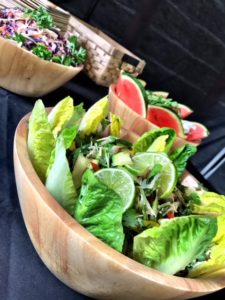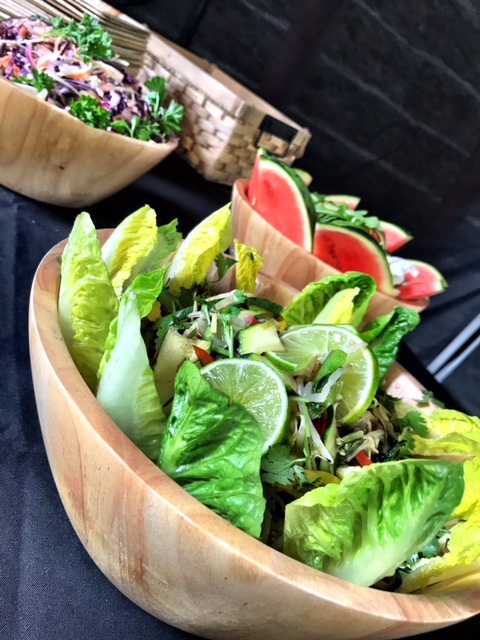 Alex chose some of our signature slow roasted pork, along with grilled veggie and halloumi skewers for the meat-free option, served alongside a crispy Thai salad, creamy coleslaw, cous cous and jacket wedges! With the food sorted and confident that our varied menu would be a big hit with their new clients, Alex was relieved that he had one less thing to worry about!
The Hog Roast Yelverton team arrived on site first thing in the morning so that we could freshly prepare all of the dishes from scratch using only the best locally-sourced ingredients,  whilst the chef was tending to our ethically-reared pork as it roasted slowly over the course of several hours.
We were ready to serve bang on time at 1pm and we greeted the management team and their clients with our polished and appealing spread. We provided our usual level of friendly and efficient service whilst we helped everyone to choose which delicious dishes they wanted to pile their plates high with, whilst the buffet style presentation allowed the conversation to flow whilst everyone enjoyed their lunch!
Our food was very well received  by everyone and event organiser Alex and his team were very grateful to us here at Hog Roast Yelverton for helping him and his colleagues to impress their new clients with our sumptuous spread, superior ingredients and attentive service!