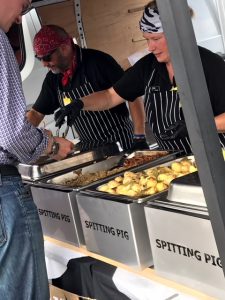 Hog Roast Yarcombe were delighted to be asked to cater for around 70 guests at a military base at Blandford Forum.  The Royal Signals Museum at Blandford Camp tells the story of military signalling throughout the ages and were hosting the lunchtime break for a historic vehicle rally that spanned 1000 miles.
Catering for this type of event is something that Hog Roast Yarcombe excels at alongside catering for other private, wedding and corporate events and we can cater for virtually any size of event with a selection of menus available that will ensure that guests will always go away fulfilled and satisfied that the food that they have eaten has been high quality, delicious and with a professional service.  The menu selection for any event ranges from informal, Hog in a Roll food to more formal sit-down catering and the client was clear on the menu that they wanted which included hog roast rolls, salads, potatoes, veggie skewers for any vegetarian requirements and with chocolate torte or lemon torte – served with fresh cream; tea and coffee were also required.  There are many good caterers for this type of event but one of the things that makes Hog Roast Yarcombe great is not only the professional service and the very high-quality food, but also the flexibility and adaptability that we have to be able to tailor our menus for the clients' requirements.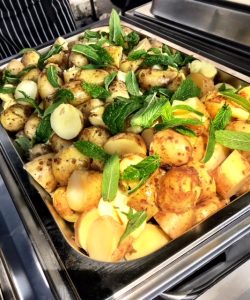 We arrived with the temperature hitting 27 degrees Celsius and set up our roasting and catering equipment in the grounds of the wonderful museum well before serving time to get the roast up to temperature and for the guests to marvel at the pig roasting and the amazing aromas (and interest) that it generated!  With nationalities and historic vehicles from all over the world around us, we started serving when the guests were ready and as they had already got a whiff of the delicious aromas of the food that we were preparing, they were certainly ready for their food!  The cars were able to have a pit-stop on their journey with some mechanics on-site for any quick fixes and the diners were excited and delighted at the pit-stop we also had to offer!