If you like the idea of running your own family get together catering or DIY hog roast for your daughter/sons next birthday party, the you can't go wrong with Hog Roast Holsworthy. When you rent one of our machines get don't just get the machine, you also get years of expertise and knowledge included, so when Hog Roast Holsworthy takes one of our professional machines to your choice of venue (which is all part of the package price), we show you exactly how to use it to make the most amazing hog roast you've ever tasted. Using our Hogmaster or Titan machines is very simple, and we have designed them to be that way, as these machines were designed by ourselves at our factory based in Lancashire.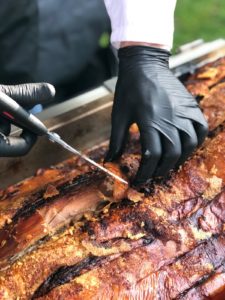 Whether you are hiring a machine for one of your own parties or events, you're a professional caterer or something in between, Hog Roast Holsworthy can help you cook the most amazing food, not just meat! Our machines were designed to work very similar to a normal oven, this allows you to cook anything inside it including potatoes, vegetables and even pizzas!
When Sam contacted Hog Roast Holsworthy, he wanted to hire a machine to cook at his granddaughters christening, he told us that he was an avid barbeque enthusiast, but had never cooked but a hog roast machine before, and had never cooked meat as big as a whole pig. We made sure that Sam had nothing to worry about, and that our catering team would talk him through how everything worked. He also asked if he knew where he could pick up a pig from, but we also said that we could add that onto the package and source him with a pig ourselves. We dropped the machine and the pig at the event location and he was very happy with the outcome.