It was the end of the season for the amateur dramatics society and they wanted to celebrate a successful season with a fantastic event. They had a party every year and this gave the general public the opportunity to come along and find out all about them as they were always looking for new members of all ages. The shows they put on were at the local hippodrome theatre in Chagford. It wasn't a large theatre but it had been there for many years and it was great that it was still being used. They society put on everything from pantomimes and comedies to Shakespeare. Something to suit everyone's tastes.
There was a small bar in the foyer and plenty of table and chairs for people to sit and enjoy a drink. This was the place people came to whilst waiting for the shows to start so this was the ideal place to hold the events night. The usual bar staff were on hand to serve drinks and we at Hog Roast Chagford were asked to be the caterers.
We were asked if we would cook the meats off the premises as there wasn't enough room anywhere in the building. We knew this wouldn't be a problem at all as we are fully self-sufficient and can cook anywhere, so we was very happy to help. The society decided they wanted 3 different meats for choice to hopefully suit everybody's tastes, we knew straight away that the Hog Roast Chagford Southern Slow Roast would be perfect for this event! A BBQ spit roast pig was the first choice, obviously with perfect crispy crackling, apple sauce and sage & onion stuffing. A side of sirloin was thought to be a good choice with horseradish sauce and a lovely fresh lamb slowly spit roasted with mint sauce was the third choice.
These 3 meats were chosen as the society thought they would be the most popular to please all ages and tastes. Baby new potatoes in a herby butter and fresh seasonal vegetables were also available. The society were expecting around 200 people attending. We provided disposable plates and cutlery as the theatre didn't have enough crockery for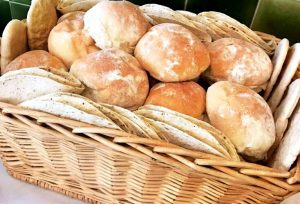 the event. We at Hog Roast Chagford were happy to supply anything that was needed to make the event a success including table linens and napkins. Everyone had a great evening and the society gained more members which made everything a great success.