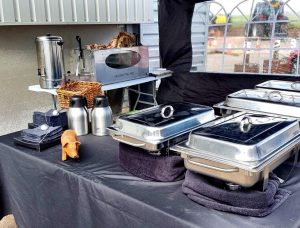 We're all enjoying being outside in the lovely sunshine but we find it's always useful for our customers to know that Hog Roast Exeter can cater whatever the weather – come rain or shine (or even snow!) we'll be there, with our trusty gazebo or a larger marquee if needed. Plus we can often cater indoors if required, as long as there's enough space and ventilation. Just recently, our team had a great time catering an outdoors event, however, for the Environment Agency South West, which is sponsored by DEFRA (the Department for Environment, Food and Rural Affairs). The Clyst Honiton Depot is located on Westcott Road in Exeter, and that's where our Hog Roast Exeter team headed on this lovely, sunny day.
We had been asked to provide our highly popular Menu 1 of a slowly roasted hog, from which we make delicious pigs in buns, as well as some extra options for a lunchtime meal. All 70 guests could have the bonus mixed salad dishes and huge servings of coleslaw that we would put together just before service, plus some gluten-free guests would be able to enjoy pretty much the same pigs in buns as the other guests, just with their own suitable bread rolls, as everything else is suitable (from the juicy meat and salty crackling to our homemade apple sauce and stuffing). Plus the vegan and vegetarian guests could feast on our tasty veggie skewers. We always ensure that all of our customers and their guests can enjoy our yummy food, no matter their diet, which is why we have plenty of options for vegans, vegetarians, and any guests with intolerance's or allergies. Just let us know in advance and Hog Roast Exeter will make sure they are catered for.
After setting up our gazebo, serving station and one of our Hogmaster Pro hog roast machines, our chef prepared the meat from scratch and set the machine going. Slowly but surely for several hours, the hog sizzled away in its own juices. Nearer the time of service, our team set to work preparing the skewers, salads, rolls, sauces and stuffing, and by 12pm, it was time to serve lots of hungry guests plenty of lovely food.