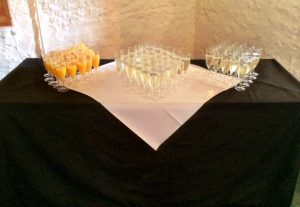 When Hog Roast Honiton caters your wedding day, you don't have to worry about a thing, and you can expect delicious food prepared, cooked and served by professionals who go the extra mile to help make your special day even more memorable. We care about the little things too, which is why we care about the presentation of our team, our set-up, and our food, and we add extra touches like 'Just Married' bunting and cute little signs letting you and your guests know which food is in which warming tray, which is especially helpful when we're providing alternative dishes for those with dietary needs.
For Claire and Ashley's wedding feast for 70 guests, we were asked to provide a welcome drinks and canapés service and two main meats with new potatoes and salads, as well as a vegetarian option of veggie skewers. The gorgeous venue for the wedding reception, Rye Hill Barn, is located in Longbridge Deverill, in Wiltshire's Warminster, so outside of our usual area, but we are often asked to cater elsewhere, either at the request of our customers or to cover for another franchise, and we don't mind at all.
On the day of Claire and Ashley's wedding, our Hog Roast Honiton Catering Manager Martin and team members Charlotte, Megan, and Jonny arrived at the venue hours before the food would be served, and got busy setting up our equipment. Rye Hill Barn is set among the rolling Wiltshire downs in an area of outstanding natural beauty, so it's a lovely place for a wedding. We soon got on with preparing the hog roast which we would be serving, as it needs to cook slowly for several hours, and then onto the lamb joints which we would be serving alongside.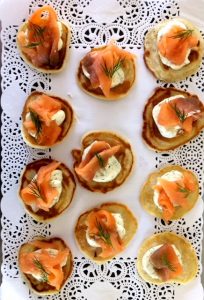 Some hours later and it was time to serve the drinks and the canapés of handmade mini pizzas, handmade blinis with dill, cream cheese and smoked salmon, our mini vegetable tarts and cocktail sausages with a honey-mustard dip, followed by perfectly-roasted pork and lamb, with new potatoes dressed with a herb butter and three garden-fresh salads. After serving the couple's wedding cake for dessert, with a coulis and berries, Hog Roast Honiton discreetly cleared away to leave Claire and Ashley and their guests to dance the night away.