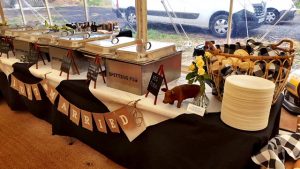 While Hog Roast Axminster often caters in this area and all around Devon, we're often asked to cater elsewhere too, either by a customer or to cover for another franchise. Just recently, we catered in the neighbouring county of Somerset, at Rushley Farm in the lovely village of Chilthorne Domer.
For a post-wedding celebration for Kirsty and Nathan (now Mr and Mrs Rowe), we were asked to cook our popular Southern Slow Roast Menu for 150 guests. This menu features amazing variety for our customers and their guests, and you get to choose three meats and four sides, so that many different tastes are catered (and there's even a vegetarian option if you need, too). Kirsty and Nathan decided on Texan beef brisket, Cajun chicken, and barbecued pork for the three main meats. They are all marinated beforehand and then cooked at a low temperature, ever so slowly for hours at the venue on the day, until we produce tender, mouthwatering meat that no one can resist.
For the sides, the couple chose sweetcorn cobettes, our homemade coleslaw, and a fresh green leaf salad, in addition to sausages for the children, if they so preferred. While sausages are not usually part of our Southern Slow Roast Menu, we are flexible when it comes to your wants and needs, so always ask if you would like something replaced.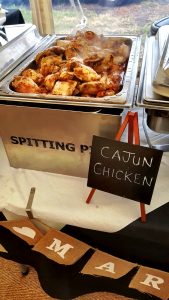 On the day of the feast, Hog Roast Axminster arrived hours before serving time and set up our serving tables inside the marquee and decorated them with small vases of flowers and  'Just Married' bunting. We like to add the personal touch on such a special day, as sometimes it's the little things that make the day so special. While the meats were sizzling away, we freshly prepared the other food, including putting together two huge bowls of our crunchy coleslaw and two huge green leaf salads, and cooked the corn cobettes and sausages. We added little chalkboard signs to let everyone know which serving tray was which food, including one for the sausages to say children could have them with ketchup of course!
By the service time of 5.30pm, Hog Roast Axminster got ready for the hordes to start queueing to taste our scrumptious food.