If you thought that Hog Roast Shebbear only catered with mouth watering hog roasts and only for formal kinds of events, this blog will certainly prove you wrong, as we provide so much choice and variety that you may be highly surprised, and we can also cater anything from small gatherings in back yards and gardens to beach barbecues and farmyard picnics, as well as posh affairs if needed too. Whatever you need catering, from a birthday bash to your special wedding day, or a corporate function to a charity event, you'll find something suitable and also delicious within our versatile menus, as we want all of our customers and their guests to be able to eat our homemade delights.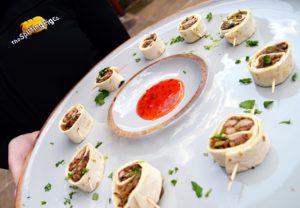 When you book Hog Roast Shebbear catering services, you get our wealth of experience as part and parcel, as well as our training and knowledge, but you also get access to lots of different food options, including our standalone menus, but you can always plan your very own menu if preferred. In addition to our sumptuous hog roasts, we cook stunning spit-roasted meats, as well as meat-free alternatives and ones for special diets like gluten-free, and we can cook up a storm with a multi-course menu that includes a selection of handmade canapés or some starters, sides or desserts – or all of the above if needed. Whether you're planning a relaxed get-together or a formal do, we're sure that our food will wow your guests, and that's regardless of their personal tastes, appetites or dietary needs.
For many years now, we've happily catered every type of occasion that you can think of, and always with the same gorgeous fare, and in terms of spit roasts, these vary from whole English lamb to free-range turkeys or chickens or brisket of beef, and are often accompanied by our fresh salads and homemade coleslaw, or with your choice of potatoes and vegetables, or sometimes just with fresh bread rolls and wraps. We'll always cater to your wants and your guests' needs, so get in touch with our dedicated team here at Hog Roast Shebbear and we'll do you proud with our lovely, homemade dishes.