Hog Roast Farringdon has many options for catering your party or event and so much more than our mouth watering signature food that we're sure you'll be surprised. While we cook a mean hog roast or two, we also have scrumptious alternatives, including meaty and meat-free dishes, as well as plenty of possibilities in case you're thinking of having a multi-course menu, and if you're also inviting any guests with dietary requirements, we've got you covered there too.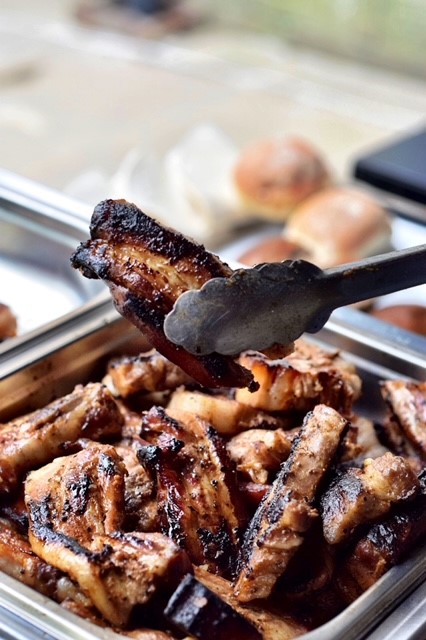 We work hard to ensure that your wants and your guests' needs are always met, and one look at our extensive menus and you'll see exactly what we mean. We've always catered to the highest of standards and with choice and variety as a key part of what we do, as here at Hog Roast Farringdon, we want everyone to be included in being able to eat and enjoy what we make. Our alternative homemade meaty delights range from spit-roasted meats to ones that are barbecued or marinated, so you could feast on something like spit-roasted or marinated lamb, beef, chicken or turkey or a selection of BBQ meats like burgers, sausages and ribs, and that's whether you fancy a main all by itself, with sides instead, or as part of a great banquet. Plus for vegans, vegetarians or flexitarians, we have some gorgeous options, such as our pulled jackfruit buns with slaw and grilled veggie skewers.
In terms of additional courses, we have some lovely offerings of starters, sides and desserts, as well as handmade canapés that we can serve with or without refreshments. Whatever kind of special occasion you're organising, we can make it even more special, with delicious homemade food made out of local, fresh, high-quality ingredients each and every time. We also have our very own standalone menus available, in case you'd prefer to choose our Traditional Barbecue, Southern Slow Roast, Loaded Fries or Alfresco rather than decide on your own menu, and they're all highly popular with many of our long-term customers too.
Hog Roast Farringdon can help you to decide on the perfect menu to suit your requirements, so call us today and see how. We're waiting for your call!