We love a good party here at The Spitting Pig, so when we were asked to cater for a themed celebration, we couldn't wait to get stuck in. We were asked to provide a hog roast in Silverton for Danny's 30th birthday at his parent's house in the countryside. When they said it would be a small affair in the back garden, we didn't realise small meant around 100 guests and that the back garden was really a huge field the size of several cricket pitches at the back of their stunning Georgian home!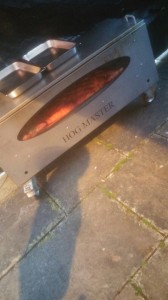 The theme was Game of Thrones, Danny's favourite TV programme, so as a fan of the hit TV show myself, I was intrigued to meet Danny's parents to plan our involvement in the party. While their son knew he would be having a party, he didn't know the theme or that he would be having two spit roasts – one large hog roast Silverton with apple sauce stuffing and one large sirloin of roast beef. We serve the latter with horseradish sauce, Yorkshire puddings and homemade wine gravy, so both sounded perfect for House Lannister of Casterly Rock (as their home was being renamed for the event!)
In addition to the two spit roasts, the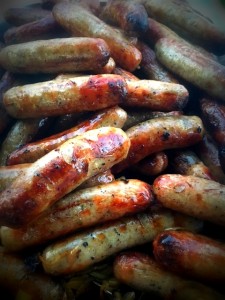 guests would enjoy a buffet banquet of handmade burgers, gourmet sausages, marinated spare ribs, chicken kebabs and a vegetarian option. These would be accompanied by tasty seasonal vegetables and our special herb butter new potatoes. All in all, it would be a feast fit for a king!
As the day arrived, we set off in the pouring rain, glad that the spit roasts had already been organised to be undercover inside a large marquee. One of the waiting staff said we should have dressed for the occasion, but we left that to the guests. Many of the older partygoers seemingly hadn't heard of Game of Thrones or hadn't wanted to wear fancy dress, but those that did dressed to impress. As we carved our delicious pork and beef, I heard one of Danny's friends shout, "You know nothing, Jon Snow". An older guest snapped, "Don't be so rude. Jon Snow is a wonderful newsreader". I smiled for a week.