We were delighted to be asked to provide our catering expertise for a 50th Wedding anniversary gala with a Hog Roast in Marystow. The felicitous couple were not merely celebrating their Golden anniversary, but the arrival of their latest grandson, and so wanted to provide a gloriously fulfilling and decadent catering experience to everyone.
We set up, in what I must say was one of the most charming and manicured gardens I have seen. The glorious outlook over the rolling fields set a fantastic ambience, which was only heightened when our slow roasting hog began to infuse the air with that all familiar appetising aroma. We enjoyed plenty of candid banter from the guests who treated us as part of the extended family and whom showed genuine interest in Spitting Pig and of course the full hog service. Many had expressed their keen anticipation to taste the aromatic fayre seeing as they had never seen a whole pig roast before. It is one of the most satisfying elements to know that we often bring a totally new catering experience to many and for the overwhelming majority, an experience they cannot wait to repeat!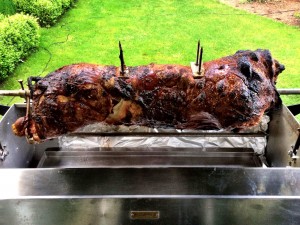 It all seemed so fitting, after the lovely couple exchanged and received gifts and in the wonderful glory of a still and fresh summer day, the guests began to congregate around the large marquee and dining area for our Hog Roast in Marystow. Our crisp and fresh salads were much appreciated along with a few decadent extras. It was however no surprise that the tender and luscious roasted meat was the true golden highlight. We received a great number of personal accolades and thanks from the guests, many of whom said it was the best catering they had experienced and that they had never tasted a more delicious or tender roast. We were keen to tell them that we only use locally sourced produce and that this is a key requirement to providing the best event catering possible.
At the turn of the evening the enraptured couple personally thanked our team for helping to make this event a success, they even promised to hire our services again for their next milestone anniversary celebration!