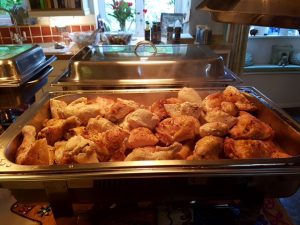 Hog Roast Bridgwater is renowned for providing great-tasting, fresh, homemade food that's economical and suitable for any kind of party or event. What you may not know is that we are very flexible when it comes to making our customers happy and we always go the extra mile to try and make your special occasion one to remember.
Just recently, Hog Roast Bridgwater was asked to cater a double celebration at a private house, with 50 guests invited to Claire and Tony's engagement party/housewarming party. For the majority of the guests, we would be preparing, cooking and serving our amazing Southern Slow Roast Menu, which features three marinated meats and several sides of your choice. For Claire and Tony's party, we were asked to cook our barbecued pork, whole roasted chickens, and Creole-spiced lamb, to be accompanied by our homemade crunchy coleslaw, a freshly-prepared Greek salad full of feta and olives, and sweet potato wedges (fluffy on the inside and crispy on the outside). We were also asked to provide a vegetarian option of grilled veggie skewers, which we make with yummy chunks of halloumi, mixed peppers, mushrooms, tomatoes, courgette and onion.
We make sure to always provide options for any customers or guests on special diets, so vegans can enjoy our veggie skewers if we leave out the halloumi cheese, and gluten-free guests can still munch away on our scrumptious pigs in buns, just with suitable bread rolls instead, as the other ingredients are already suitable. If you're planning a special occasion, ask us for suggestions, as we have plenty of experience with this.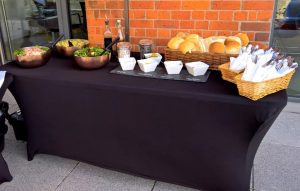 Hog Roast Bridgwater arrived at the venue hours before service, and found it to be a gorgeous, old, thatched cottage with lovely gardens. It was absolutely pouring with rain on the day, but we are nothing if not adaptable and we worked out that we could cook under our gazebo and then serve from inside the beautiful cottage. By 2pm, we were inside with plenty of dishes to go round for our customers and their guests. Everyone was very happy with the food and the bad weather didn't manage to dampen anyone's spirits.