Looking for a way to make your upcoming event even more memorable? Hire Hog Roast Cullompton to do the catering and you and your guests are sure to be impressed! Our flexible style of catering dates back to the middle ages and there is a reason that hog roasting has remained popular over hundreds of years. By roasting your choice of meat low and slow in our purpose designed machines you get nothing but the most succulent and scrumptious tasting meat. Every. Single. Time.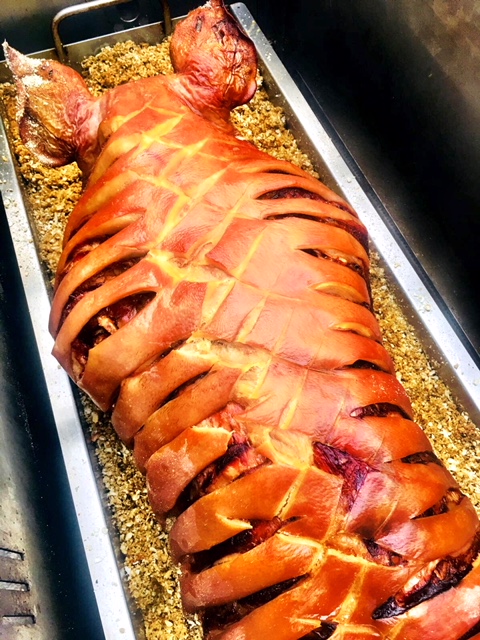 This week Hog Roast Cullompton were thrilled to be asked to cater at the christening of baby Jack. Jack has just turned eight months old in March and his parents had planned an elaborate christening followed by gathering of close friends and family. Jacks mum, Lilly, was planning the ensuing gathering and approached us to cater. She told us over the phone that as the christening itself was likely to be a very formal and traditional affair they wanted to stick with the traditional theme but make it a bit more relaxed at the gathering so people felt at ease and so that Lilly herself and partner Tom could relax as they told us Jack could be quite a handful at times. 
For this event, we planned to create our speciality Hog Roast Cullompton hog roast rolls. These rolls consist of our slow roasted hog meat, cooked for several hours in one of our Hog Roast Cullompton machines. When the meat is succulent and roasted to perfection our chef carves it into slices and places it on freshly baked bread rolls. This is then topped with layer upon layer of crispy crackling and finished with a dollop of our tart apple sauce for the perfect Hog Roast Cullompton roll.
As the guests arrived everyone was in awe at the sight of our Hog Roast Cullompton. Lilly told us that the christening had gone without a hitch and now everyone was ready to enjoy themselves with some good hearty food courtesy of Hog Roast Cullompton!