Here at Hog Roast Dartmouth, we pride ourselves on providing excellent customer service while preparing, cooking and serving delicious food that everyone can eat, regardless of personal tastes or dietary requirements. Over many years now, we have been busy maintaining long-term relationships with our repeat customers as well as establishing relationships with our new ones, and that's both locally and further afield as we often cater outside of this area if needed.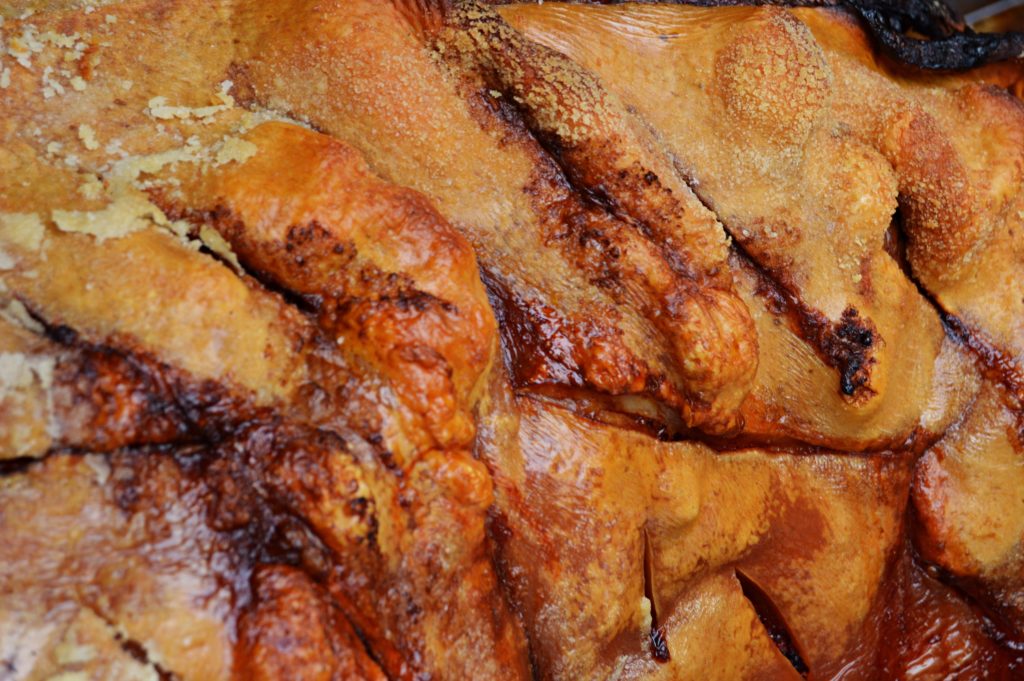 For Erin and Jay's wedding meal that we recently catered, Hog Roast Dartmouth was asked to cook a traditional hog roast to feed most of their 50 guests our famously succulent pigs in buns, but we also needed to supply a vegetarian option for two guests. Our chefs have plenty of experience in creating tasty dishes for special diets and on this occasion, we would also be making our own veggie skewers, which feature halloumi cheese and various vegetables which we grill and then serve with pitta bread and a dip.
On the day of the wedding, our Hog Roast Dartmouth chef and assistants set up our equipment at the hotel venue and got to work on the meat, which needed scoring all over, covering in water to keep it moist while cooking, and then smothering in lots of salt, which turns the skin into crispy crackling. This was several hours before we were due to serve the happy couple and their guests, as it takes a long time to cook a hog to perfection, which results in tender pork and a salty, crunchy outer.
Later on that afternoon, while the hog was sizzling in its own juices, we prepared and grilled the veggie kebabs, which were full of baby tomatoes, yellow and red peppers, mushrooms, courgette and red onion, as well as the halloumi chunks. Once the meat was perfectly cooked both inside and out, it needed a short rest while we prepared the ingredients for the pigs in buns, including our own apple sauce and stuffing and fresh bread rolls. Finally, the skewers were ready and it was time to carve the hog in order to serve lots of hungry guests.