Here at Hog Roast Exmouth, we aren't just great at large scale outdoor catering, we are just as good at catering for smaller indoor events. We got the chance to prove this recently when we catered for an intimate indoor wedding for 40 people! We are able to do this because we have a very versatile catering and events team, as well as any equally versatile range of cooking equipment, some of which is more suited to smaller events.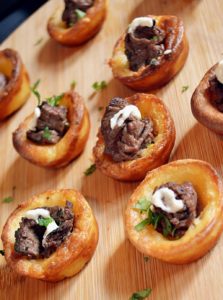 The guest list may have been on the small side, but that didn't mean that the bride and groom didn't want to go all when it came to the food. After discussing their requirements with a member of Hog Roast Exmouth's friendly team, they opted for one of our more formal 3-course wedding menus, complete with a canape welcome reception, full table service throughout and their wedding cake being dressed and served by us.
Their tempting selection of six different canapes included tiger prawns, mini pizzas and grilled fillet of beef served with salsa verde, all of which went down very well with the happy couple and their guests! When the toasts had been made and everyone was comfortably seated, we served our freshly-made starter of salad Niçoise, followed by our signature hog roast, crispy crackling and apple sauce, as well as whole roasted salmon, all served with seasonal vegetables and rosemary-infused new potatoes!
Our attentive waiting staff made sure everyone was very well taken care of throughout the meal, from our warm welcome to serving the individual cheesecakes and fresh fruit salad for dessert! The bride and groom and their 40 guests thoroughly enjoyed our stylish wedding feast and were extremely appreciative of the fact that we had made every morsel of it from scratch at the venue using only the highest quality local produce in all of our dishes!
The Hog Roast Exmouth team had a great day and we enjoyed proving yet again that our food is great for any type of wedding reception, whether is it a large outdoor affair or smaller indoor gathering, and we're pleased our elegant menu went down so well with all of the guests!