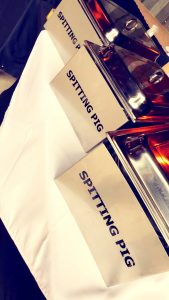 Whether you are organising a wedding, family party or a corporate event you are faced with the challenge of organising food for your guests. These days' people have widely varied tastes, so providing everyone with something that they will enjoy can be difficult. At Hog Roast Kingsbridge, we understand this, which is why we constantly review, update and tweak our menus. Doing so ensures that the food we provide suits the tastes of modern consumers.
We still specialise in cooking whole hogs, but are increasingly being asked to spit roast other meats. Our service has evolved into a one-stop shop for anyone who is planning a party or get together. Today, we provide a range of canapés, seasonal vegetables, salads, desserts, stuffing, sauces and other side dishes as well as spit roasted hog and other meats.
A Full Spit Roast Catering Service
On the day of your event, the professional chefs from Spitting Pig will arrive at your venue at the pre-arranged time. They will set the meat cooking then prepare and lay out all of the other dishes you have ordered along with crockery and serviettes.
If you are holding a formal event, our waiting staff will arrive at the same time to lay the tables and help with the preparation of any canapés, starters or buffet foods. When the food is ready, it will all be served at the perfect temperature.
Once your guests have finished, we clear away the crockery and take it all off site to be cleaned. You do not have to do a thing. We take care of everything, so that you can spend time with your guests and enjoy your party or event.
Our Cook your own option
At Spitting Pig, we pride ourselves on our flexible approach, so when one of our customers asked to hire a machine from us and cook their own hog we said yes. Today, we offer this service to all of our customers.
We deliver the machine, and give you a quick lesson. When your party has finished we take it away again and take care of the cleaning.
Booking our service could not be easier. All you need to do is to fill out the quote form on this site. A member of the Hog Roast Kingsbridge team will get in touch and go through all of the options.