Amongst the darker nights, the colder mornings, the wintery weather and the big puffy jackets, scarves, hats, and gloves we cannot help but be yearning a little for the warmer weather of the British summer. We're certainly by no means in beach body shape quite at the moment at Hog Roast Roborough, but nevertheless we're longing again for those classic British barbecues and summery events under the sun again!
Why stop at mere hopeful yearning however – why not get to planning those summer events and glorious barbecues right now with Hog Roast Roborough! Bookings are already open for the rest of the year and beyond, so why not get to putting your plans in action and make this summer at home the best it can possibly be. Our dining services are actually perfect precisely for the warmer weather. Hog roasting itself is a cooking style typically and historically done outdoors, and though our own update on it can allow it to be cooked indoors we still love the simple pleasure of getting a great big roast going out under the sun. Hog Roast Roborough are specialists for outdoor catering, perfect for all of your upcoming summer plans in need of great dining.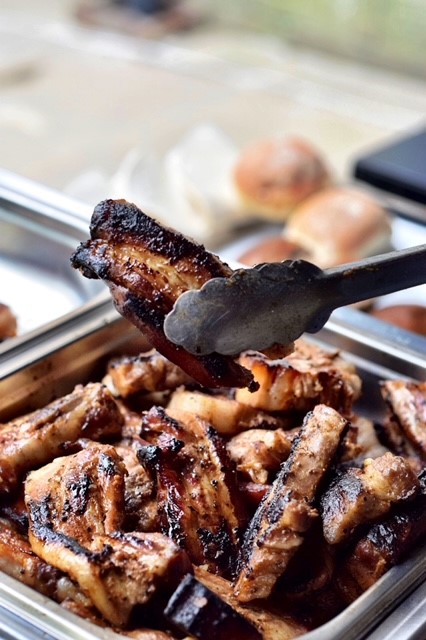 This summer forget about toying around with those awful disposable barbecue sets, fumbling over lighters and matches trying to get anything from your cheap aluminium foil set; Hog Roast Roborough are going to upgrade your barbecue experience to the best it can be. Our gourmet BBQ range is the best a barbecue possibly can be. With our roasting and barbecue capabilities made possible via our mobile machines, you could be enjoying a feast of perfectly cooked gourmet sausages and burgers, all handmade, or chicken legs or pulled pork rolls hand pulled fresh from our golden hog roast. It's all your flame grilled favourites like you've never enjoyed them before!
After the last 2 years of mostly spending summer at home we know you're probably looking to set off for the suns of the Mediterranean this year, but once your home nothing beats a good British barbecue so make yours a proper one with Hog Roast Roborough today!