When you book Hog Roast Sidmouth for a garden party or any celebration party, you may want to know the set up and what equipment will be expected on site beforehand. The great thing about Hog Roast Sidmouth is that 95% of the time their set up is completely self-sufficient, they run off propane gas bottles so you as the customer will not be required to provide anything such as power. Overall, the set-up time is relatively quick.
Power is required by the customer if you choose a spit-roasted meat whether that's a whole roasted pig or whole roasted lamb to run the motor. Another menu item that would require power is chips, the power is needed for the fryer as the chips are fried fresh on site to ensure a crisp outside and soft inside. The final menu item that will require power is tea and coffee for the water urn to boil the water for the brews. If for any reason you cannot get power at your venue, discuss this with your catering manager and something can definitely be sorted such as Hog Roast Sidmouth bringing a generator.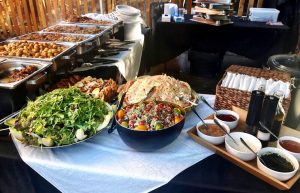 A popular menu for Hog Roast Sidmouth is a delicious classic Hog Roast with fresh, colourful salads and crisp chips. Power would be required for the fryer; Hog Roast Sidmouth will provide an extension lead. The main equipment needed for this job is:
Hog Roast Machine
Gazebo
X3 tables and tablecloths
A fryer
X3 chafer dishes to serve the hot food out of
Extension lead
A wedding set up is slightly different as it requires more equipment due to more complicated and fun menus. On a wedding menu with canapés, spit-roasted meat, seasonal vegetables, hot dessert such as sticky toffee pudding and tea and coffee the main equipment would be:
Titan Spit machine
X2 gazebos
Six-burner gas oven
Fryer
Water urn
Chafer dishes
Extension lead
Tables with cloths
If you have any queries about how much space we need or might take up, what type of equipment that is used or, whether there will be a naked flame or anything similar, do not hesitate and get in touch and any issues and Hog Roast Sidmouth will help sort a solution.